Ethan Fechter-Leggett
Ethan Fechter-Leggett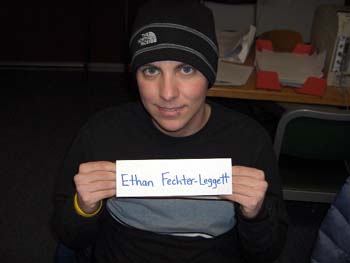 Personal details
Born:
Died: -
Education
A major in animal science with a pre-veterinary minor, Fechter-Leggett is co-founder and chair of the Translating Identity Conference held on campus, whose attendance has swelled to more than 700 including international presenters during the past three years. He has been an office holder of the campus Free To Be organization and member of the UVM President's Commissions on LGBT Equity and on Diversity and Inclusion. His website, tracking his transformation to a female-to-male transsexual during his years at UVM, has been recommended by educators as a resource on transgender issues.
"He has encouraged and also challenged the campus community...to reconsider our conceptions of social justice and equity around the area of gender identity and expression," said Jacqueline Weinstock, UVM associate professor of integrated professional studies. "His activities on campus have greatly improved this campus in ways that, without him, would likely have taken us years to attain."
Career
Legacy
Honors/Awards
In addition to Fechter-Leggett's activism on gender issues, he repeatedly received the American Society of Animal Science Award, Henderson Grant, Presidential Scholarship and the UVM Scholarship for Academics during his time at UVM. In addition, he was on the Dean's List four times and received several other awards. For the past year and a half he has simultaneously held part-time jobs and logged several hours of community service, including at a veterinary hospital.
Publications
Endowments