AGRI 85/002

LAB 5: IMPORTING SPREADSHEET TABLES, X-Y SCATTER PLOT, AND POPULATION PYRAMID INTO A WORD PROCESSOR DOCUMENT:
DISCLAIMER: This webpage is meant as a quick summary of assignments. It is not meant to be a complete users manual, or recipe book that tells you the commands you use to complete the assignments. You need to come to lab and take notes to be able to complete the assignments.
In this lab you will learn how to take a Excel table and X-Y Scatter graph and population pyramid, and import them into a Word Document. This week we are using Excel as a graphing tool for analyzing data. We will also us PowerPoint to create a cover sheet.
First, for the spreadsheet table. Create your spreadsheet and X-Y Scatter graph in Excel. With your mouse, block out the part (or all) of the spreadsheet that you want to be a table. Next, pull down the Edit menu and choose Copy.
Open Word and put the cursor where you would like to table to appear. Then either click on the clip-board/paste button, or pull down Edit and choose Paste, and the table should appear in the Word document.
Use the same procedure for copying the graph: Click on the graph so there are small black boxes around the graph. Then choose copy, switch to Word, place your cursor, and choose Paste. Do the same for the population table and pyramid graph.
Hints: You must format the graphs just the way you want it in Excel first. Have the graphs about the size on the screen that you want it on paper (don't make them too big). Save your files often as you do this so if things screw up you don't have to start at the very beginning again. Once the graphs are in Word, you may move them around, but you may not easily change the inside of them (like headings, colors, fonts etc.).
MAKING TITLE PAGES WITH POWERPOINT
MS-Powerpoint is an easy to use clip art graphics package where you can make title sheets, cover sheets, small posters, and slide shows. To get into Powerpoint, double click on it from the Start-->Programs menu in Windows. Choose Blank Presentation first, then choose the slide-type. To add a background, pull down the Format menu, and choose Apply Design. To Add clip art, click on the button of the picture of a cartoon-man's profile, or pull down the Tools menu and choose Auto- ClipArt. If you are connected to a color printer, you can print your PowerPoint slides in color. Otherwise they will be black, white and gray-shaded. If there is time in lab, your instructor will demonstrate a slide show presentation.
Assignment:
Create a new spreadsheet and an X-Y Scatter graph (w/ trendline) with interesting numerical data that you find (do not copy an existing graph). You can find these data in books, journals, magazines, on the Internet, or collect them yourself. Your goal should be to answer a question you had, and to present data to answer that question. Your presentation of the data and scatter graph should reflect some analysis that you have completed. Import the spreadsheet and graph into a word processor. Write a summary of at least 2 paragraphs summarizing what the graph shows, why it is interesting, any trends or surprises, and where you found these data (complete citation somewhere on the table and graph). The data table and the graph should each be titled and fully labeled including the source of the data, so that each stands alone.

Create a Population Pyramid using Excel on demographic data from a country of your choice. Import the spreadsheet table of demographic data and the population pyramid into the Word document. Write a paragraph or two interpreting the population pyramid. If the population age-structure remains the same, will the population grow, shrink, or remain the same size? Are male and female percentages equal? If not, why?

Use a Graphics program like PowerPoint or Lotus Freelance to create a title page. The title page should have a clear title, your name, lab section, and clip-art that has something to do with the subject of your data and graph. Print the title page in Portrait orientation.

Your assignment should be stapled and arranged with the title page first, and then the spreadsheet table, the graph, and at least part of the discussion (if not all) on the next page followed by another page with the spreadsheet table of the demographic data and the population pyramid and the discussion interpreting the population pyramid, in a seamless document. Photocopy or print the original data from your X-Y Scatter Plot and include it as the last page. Remember in your discussion, the "data" are plural. Include a complete description of where you found the data. This data source should appear on the Table, the Graph, and in the Discussion. (30 points).

The following URL is a good source for data on the web: http://www.uvm.edu/~jleonard/cdae85/data.html

Your second page should look something like this:
Relationship Between Global Surface
Temperature and Weather Damage, World-Wide

Data Source: Vital Signs 2000, 2001, Worldwatch Institute

| | | |
| --- | --- | --- |
| | | Global |
| | Losses | Surface |
| | Billion of | Temperature |
| Year | 1998 Dollars | Celsius |
| 1980 | 2.8 | 14.18 |
| 1981 | 13.3 | 14.30 |
| 1982 | 3.4 | 14.09 |
| 1983 | 9.5 | 14.28 |
| 1984 | 3.4 | 14.14 |
| 1985 | 7.2 | 14.10 |
| 1986 | 9.4 | 14.16 |
| 1987 | 13.0 | 14.29 |
| 1988 | 4.2 | 14.33 |
| 1989 | 12.2 | 14.25 |
| 1990 | 18.0 | 14.41 |
| 1991 | 31.2 | 14.38 |
| 1992 | 40.5 | 14.13 |
| 1993 | 24.4 | 14.13 |
| 1994 | 24.1 | 14.23 |
| 1995 | 40.3 | 14.39 |
| 1996 | 61.7 | 14.31 |
| 1997 | 30.3 | 14.41 |
| 1998 | 92.9 | 14.59 |
| 1999 | 67.1 | 14.36 |
Your discussion of the graph should start here. Be sure that the table and the graph stand alone, that they both contain the source of data, and are fully labeled. In your discussion talk about what kind of graph it is, what the graph shows, and interesting trends. In other words, interpret the graph and explain why it is interesting. Include a complete reference citation to where you found your data here also. For example, I found these data on the United States Census Bureau's Web page http://www.census.gov.
Your discussion should be two paragraphs long at the very least.
Here's what the population pyramid spreadsheet and graph should look like: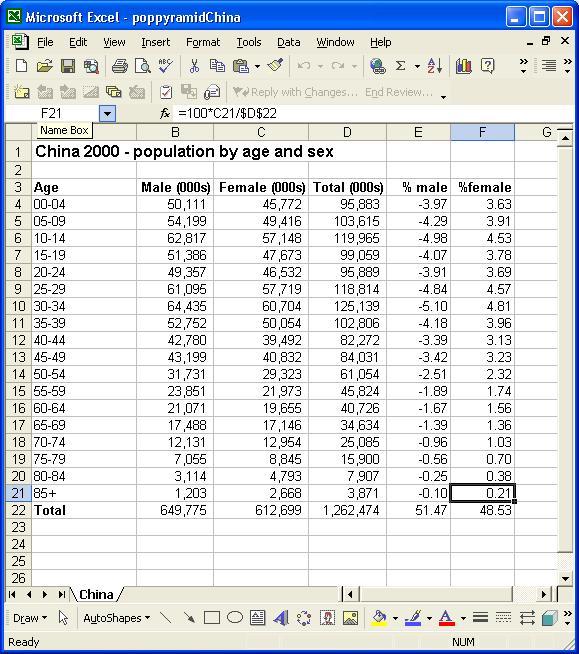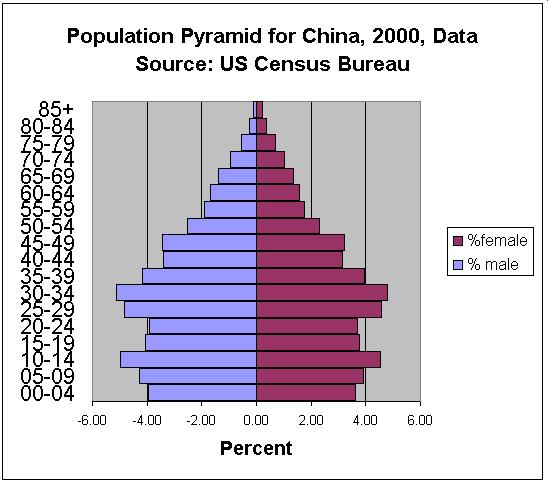 Interpret your population pyramid by describing any unequal age groups and bulges. Discuss why you think those inequalities and bulges may be there for your country choice.