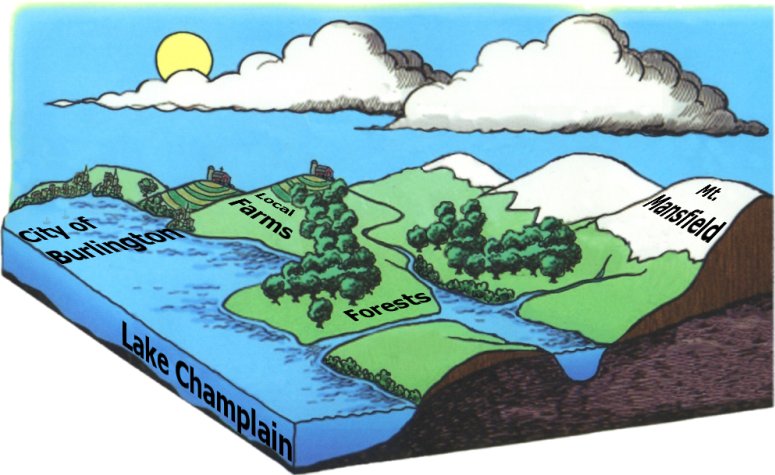 Graphic heavily modified from http://www.canandaigualake.org/images/watershedactionlg.jpg
Sustainability, Community, Stewardship, Responsibility, Activism, and Participation.
These things are part of what makes the Lake Champlain watershed such an interesting place to live and study.

Throughout a busy week, graduate students in UVMís Rubenstein School of Environment and Natural Resources were immersed in many of the different issues that face natural resource managers in Vermont, including:
runoff and invasive species in Lake Champlain;
balancing growth vs. quality of life;
growing food locally in low impact ways;
and balancing land use for human benefit and conservation.
These issues are complex.
To place these concerns in proper context, we visited the locations facing the issues and the people making the decisions. We followed (in reverse order) the natural movement of water through a watershed, starting with the Lake Champlain ecosystem and then moving on to urban, agricultural, forest and mountain environments. Each day, we learned first hand from the men and women that are involved in the different conflicts, questions and resolutions (if any) between humans and the various ecosystems in the Lake Champlain watershed.
Read through each day to learn how Sustainability, Community, Stewardship, Responsibility, Activism and Participation are more than just words when used to describe the dynamic Lake Champlain Watershed.

---
© 2004 The Value-Added Graduate Students, except as noted on specific graphic elements.