Winter Sport Culture, Community, and Economy

"The rituals of sport engage more people in a shared experience than any other institution or cultural activity today." - Varda Burstyn



WEB JOURNAL
(with a hint of a "Lord of the Rings" theme)


Nate Simpson,
too cool for words


DAY 1 - Saturday, March 13, 2004

Morning: Burlington, VT to Franconia, NH
Afternoon: Tour of New England Ski Museum; Break in North Conway, NH; Travel to Maine
Evening: Pineland Farms, New Gloucester, ME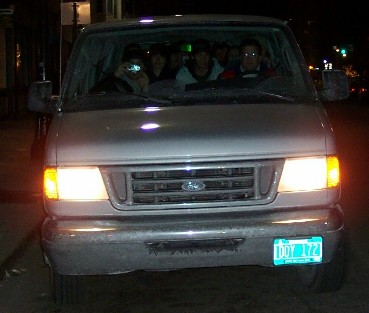 ---
A gracious wind strolled through the parking lot of UVM's Aiken Building as a group of intrepid academics shuffled hither with their belongings consisting of snow slashing equipment. Their ears pricked for the sound of their leader and inspirational guru, none other than Jon Erickson, The Economist. He arrived in a large motorized chariot gleaming in the brisk overcast light, the color of baleen. After the fellowship loaded their belongings into the belly of the traveling beast of burden they were off, taking the path of the jet stream east to New Hampshire.

Once the destination of Franconia Notch was attained all gasped with anticipation at the sight of the New England Ski Museum; a milestone of winter sports culture enthusiasts, smack at the bottom of the dueling gondolas of Cannon Mountain ski resort and pinned into place by the opposing steep faced peaks of the beautiful and daunting notch. The students also looked longingly to the Cannon lodge where a great feast was to be ravaged by the hungry travelers. A large rest for the students and a good break from the flurrying winter winds of the White Mountains.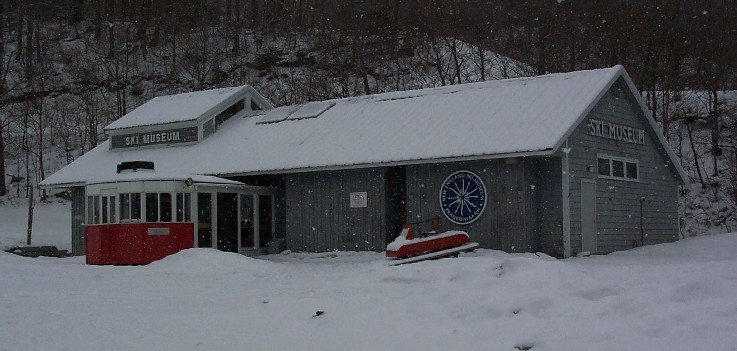 Once fully refueled the group sought more tight lodgings in the nearby New England Ski Museum to weather a building storm. It was here that the travelers were visited by their elder winter spirits, idols of the past who created skiing from scratch throughout Vermont, New Hampshire, New York and Maine a true time of ingenuity when the land was still young and fresh (well not really). The fellowship was presented with old tactics and equipment used by their past relations, and sites where skiing once flourished but now have grown quiet and been reclaimed by the land. We marveled at the history of the conservation corp. work groups during the depression, Ski Trains from the cities, jumping, and the Olympics. The vision culminated with the holy shrine of all New England skiers – the cloak worn by local legend and euro-slayer Bode Miller.
The history of New England skiing may date back to 1882 when the Norske Ski Club of Berlin, New Hampshire was organized by resident Norwegians as the first
modern ski club in the United States. Since that time there has been a number of firsts throughout New England, including: the first modern downhill event in Moosilauke, New Hampshire in 1927; the first ski train from Boston to Warner, New Hampshire in 1929; some of the first cut ski trails by the Civilian Conservation Corp. (CCC) in 1933; the first rope tow in Woodstock, Vermont in 1935. Looking back, our ski heritage runs deep in New England, a heritage that blossomed through the 1950s and 60s with rope tows and community ski hills throughout the region. The days of a hill in each town and village throughout northern New England are long gone, but some of the legends live on through this museum. The class tried to imagine hurtling themselves down fields of snow, leather-strapped to a couple of long flat pieces of wood with no wax, edges, and certainly no helmets!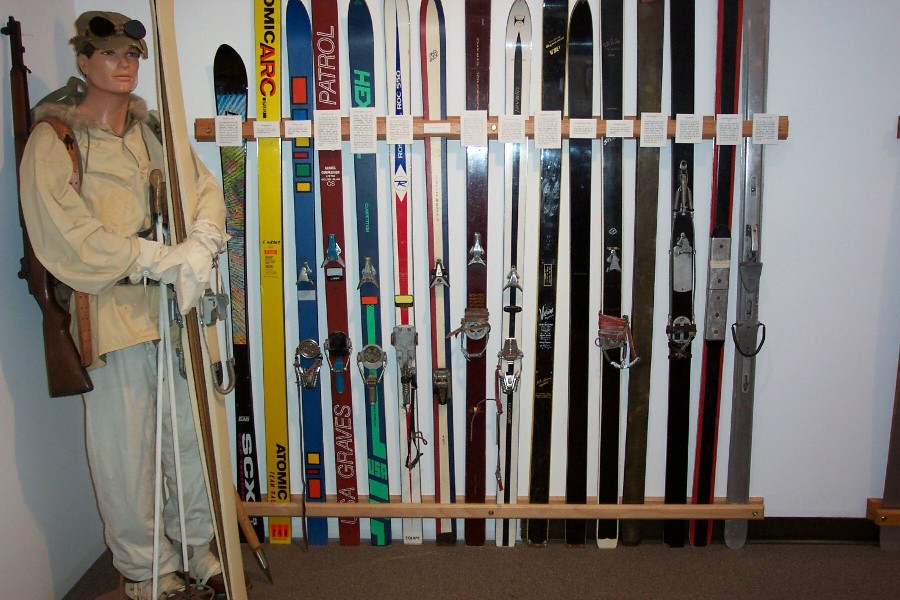 Upon completion of their ancestral meditation, the travelers once again loaded into the chariot and fled the high snowy passes of the White Mountains for the nearest commercial city, as mountain ice axers jeered them on: North Conway the home of shopping for things. With a looming trip across New Hampshire and Maine the ensemble thought it appropriate to disperse throughout the un-walled city to discover what they could of sales. At the specified time of reassembly, two were missing, and a search team quickly was created to stand around and crack jokes until Nick and Alex returned.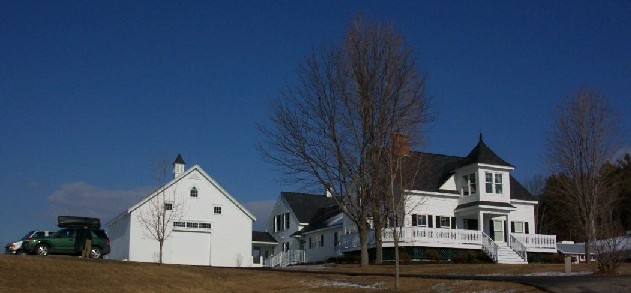 The journey did not end in New Hampshire however, for they were to travel on into the eastern skies to the ocean land of Maine to find beds for the evening. It was here that it seemed all doors were closed to the travelers, not one friendly home could be found by the increasingly discouraged group. That is until Coach Kris came to their rescue and showed the members of the chariot van how to really Maguire [inside joke]. It was Kris, the coach of top athletes of Maine, that led them to the last friendly house before the end of the road, and the last house having enough beds, showers, kitchen space, and entertainment that the travelers would see for the remainder of their quest.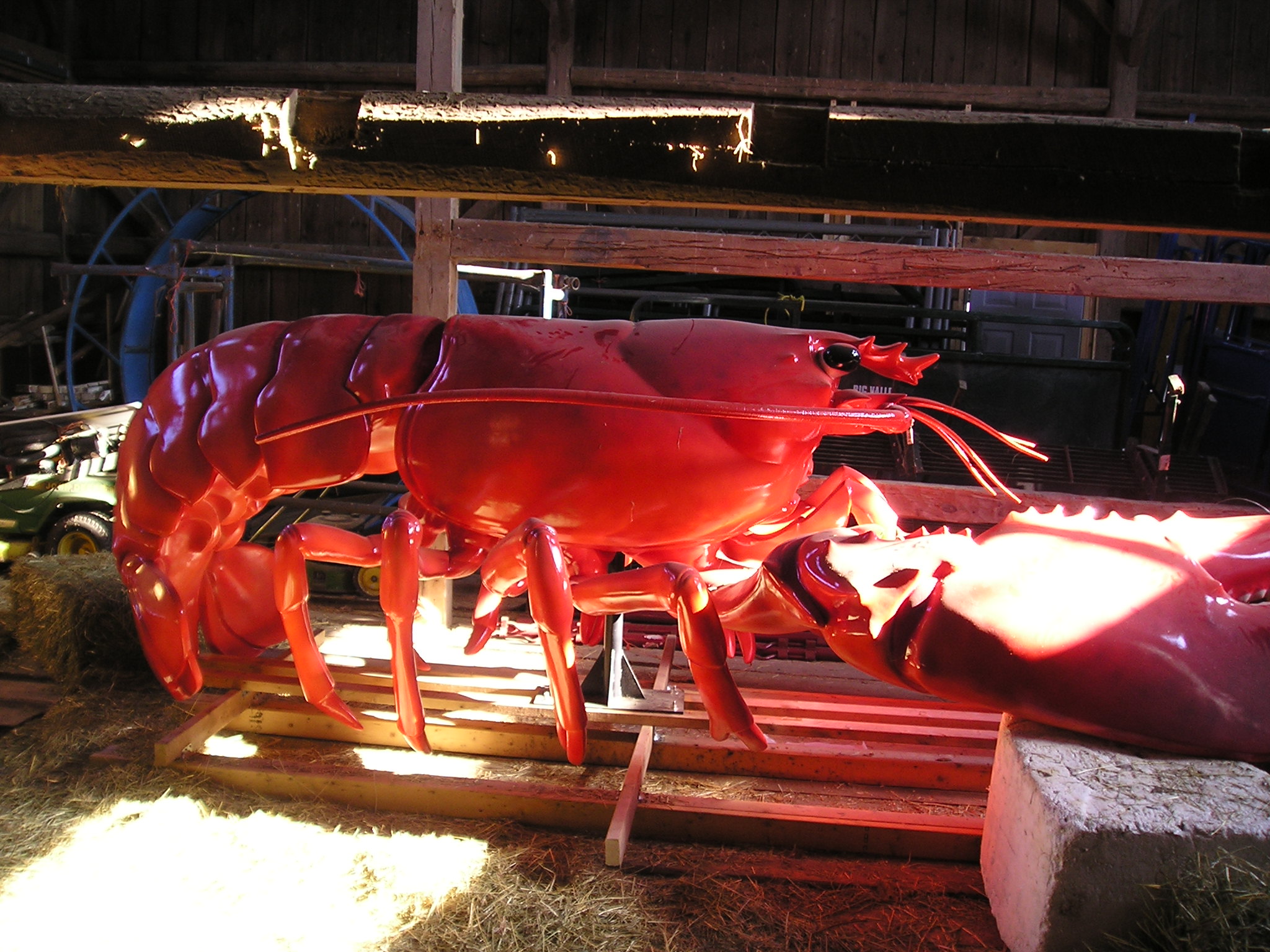 Once at the house there was one more obstacle to overcome before the group could throw their beaten bodies down for the night, warding off the wildlife that had encroached upon the home during man's absence from the site. Wild sheep had taken over the basement of one of the out buildings and had entrenched themselves behind a veritable wall of hay and feces. Closer to everyone's fears was the enchanted monster of Mai ne – the giant land lobster – growing up to twelve feet in length and well known for its tenacious tendencies.

Once the wild was under wraps the Economist and the Coach provided a great feast and told the tired travelers of what was in store for them in the coming days.

Scott Braaten, dreaming of crossing over, to snowboarding


Sunday, March 14, 2004

Morning: Ski, ride, and interview folks at Black Mtn., Rumford, ME; Spectate at New England High School Championships.
Afternoon: Meet with volunteers of Chisolm Ski Club.
Evening: Return to Pineland Farms; Night out-on-the-town in Portland, ME.

---
"Anyone in here? Wake up! Its that time."

The economist strikes again. A quick glance at the clock, then a view out the window that revels bright sunshine; it is that time, its time to go skiing. Pulling into the Black Mountain parking lot we realize that what Kris said about knee deep mud will likely ring true by afternoon. Next season that shouldn't be a problem, but more on that later. For now, the sun was shining, the snow was already starting to melt, and the ground was slowly thawing.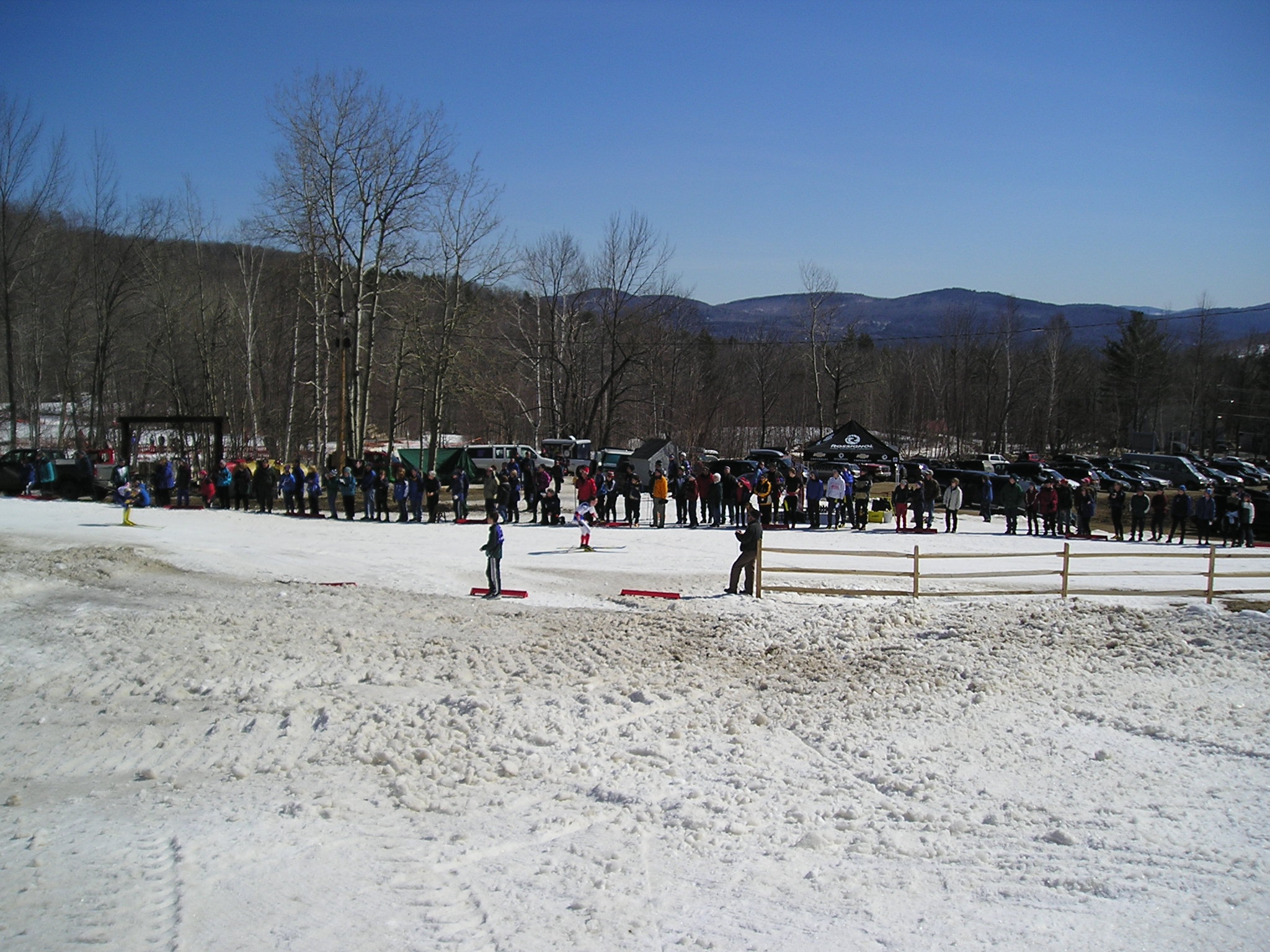 Black Mountain is a small alpine and nordic area with around 500 vertical feet of skiing and boarding, 17 kilometers of groomed cross country trails, a new novice double chair, one T-bar that services the rest of the mountain, a bare bones base lodge, an impressive tubing hill, and a small terrain park. Cross country roots are particularly deep at Black Mountain, with trails developed by Chummy Broomhall, local two-time Olympian and designer of the Squaw Valley and Lake Placid Olympic trails. Aside from the melting snow, there were a few hundred Nordic skiers and their supporters milling around, waiting for the final day of races at the Eastern High School Ski Championships. As the newest addition to the Maine Winter Sports Center (MWSC), Black has a long history of hosting major nordic and alpine events, including most recently the U.S. Cross Country Championships. Each event gives the local economy a shot in the arm, and builds on a long established network of volunteers from one of the oldest continuous ski clubs in the United States, our host, the Chisholm Ski Club.

The largest employer in Rumford is the local paper mill, and economic diversity stimulated by the local hill is welcome. The MWSC-owned and community operated Black Mountain also provides access to winter sports and healthy lifestyles that are increasingly financially inaccessible. One of American Ski Company's resorts, Sunday River, is just down the road, with $56 lift tickets and a heavy reliance on out-of-state or big city clientele. At Black Mtn., tourism development is also a goal, but through volunteer run events such as the High School Champsionships. There wasn't a spare hotel room in Rumford or nearby communities to be had during the three day event. While Black Mountain may never be true competition for larger areas, the management at Sunday River understands the role community hills play in introducing the sport and winter lifestyle to the masses. In fact, Sunday River has been offering services-in-kind such as trail cutting and lift maintenance, and recently donated skis to Black's rental program.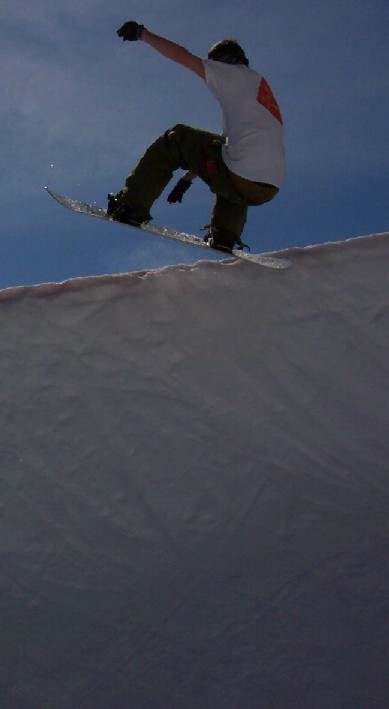 With a nod to cross country competitors and their fans, the fellowship hit the slopes. The snow on the mountain was a bit firm in the morning but softened to perfect spring corn by noon, allowing us to carve huge trenches on some of the steeper pitches. In the terrain park, a shovel and excited crew helped shape a small tabletop into a fun little kicker. Our professor stepped up and showed us students how it was done, but not without a couple of spectacular diggers. Nick also had a quality 360-to-head-in-the-snow jump and quickly learned that, no matter how hard he tries, he will never be able to bury his head in the ground like an ostrich. In the afternoon, the local kids flocked to the park to see what a bunch of UVM students were up to, and it was a feel good type of afternoon with the local youth trading tricks with us college folk.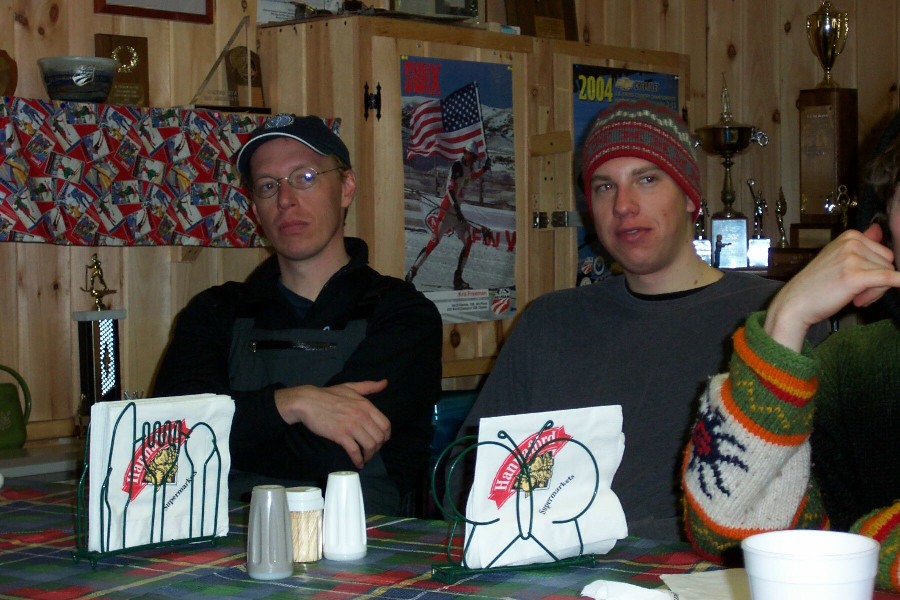 While at Black Mountain we talked with many volunteers, staff, skiers, competitors, spectators, and, of course, Chummy. Without exception, everyone was excited about the MWSC and quickly recited its mission to re-introduce skiing as a lifestyle in Maine and all the corollary health, community, and economic benefits. Folks were particularly excited about plans for expansion and renovations in the coming year. The mountain will expand to 1,100 vertical feet by installing a new chair to several new trails already cut. There will also be a new base lodge and a paved parking lot that will replace the current mud pit. It won't be Chamonix but it should attract more skiers. Through these investments, the MWSC hopes to help sustain Black Mountain as a community hill, but leaves the operations and management up to a handful of staff and and hundreds of volunteers. Many of the northeast's community ski hills have been closing down for decades, falling prey to the mega-resorts, victim to soaring insurance premiums, or succombing to increasing debt loads. The MWSC hopes it can buck the trend by relying on the local community to operate it's downhill areas and competitions through a strong volunteer base. In fact, of all the MWSC facilties, only the alpine hills charge a small fee for lift access.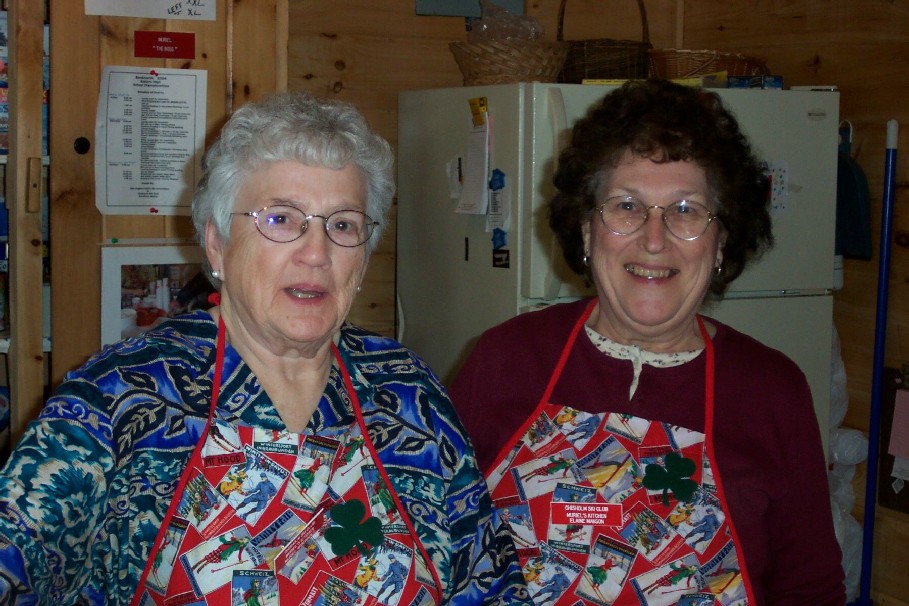 After skiing and riding, our group of travelers used the Chisholm Ski Club's small gathering area to debrief each other about what we saw and heard for the day. We also took note of the extreme generosity of the Chisholm Ski Club members as they forced baked goods and drinks on us for our meeting and the ride back to Pineland Farms. The club is key to the success of a mountain and events run almost entirely by volunteers. Clubs provide a sense of community, free services, and run world class events that attract people from around the nation and world to Black Mountain. They are the ambassadors for community ski hills.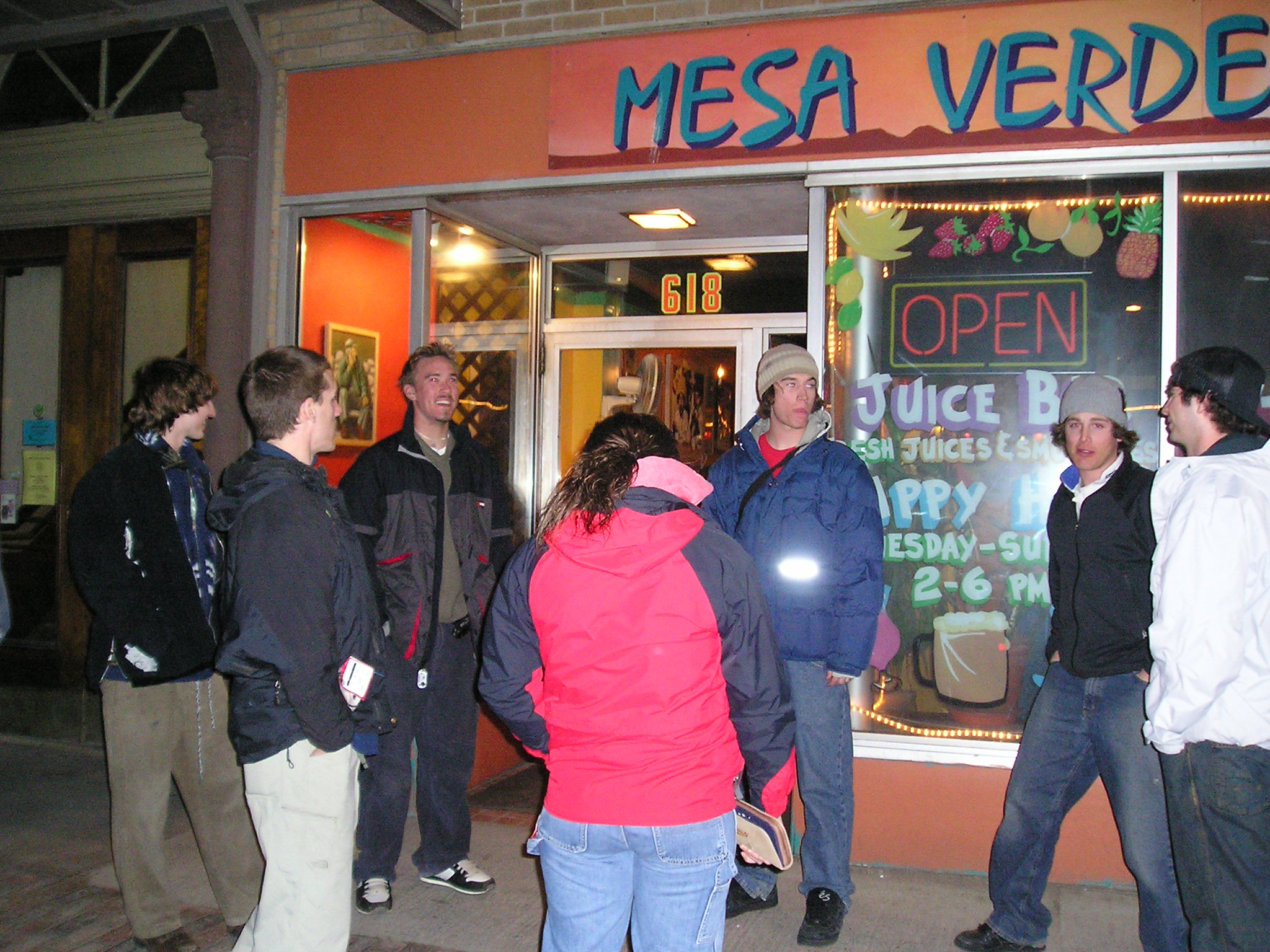 The trip back to our humble abode at Pineland Farms was uneventful. That evening, our group took off in search of food in downtown Portland. We settled on a Mexican restaurant. Now remember, this is Maine, about as far as you can get from Mexico and still be in the United States (although the town of Mexico borders Rumford . . . go figure). Lets just say the food was filling but the whole Mexican culture just isn't the same in Maine, especially with the Jackson Five playing in the background. All in all it was a very successful day exploring the local area and a community ski area that appears to be filling its niche quite well.






The reflective,
Dave Santucci

Monday, March 15, 2004

Morning: Meeting at MWSC offices, Pineland Farms; Tour Pineland Farms campus
Afternoon: Drive, drive, and drive some more to Aroostook County
Evening: Arive in Caribou, ME



Hawkman,
Brian McAllister

---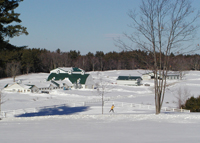 Yet another early day for the wide-eyed travelers, as the smell of pancakes and coffee wafted through the farmhouse. The group of Vermonters packed up their bags and loaded their vehicles. Kris, our leader and biathlon coach extraordinaire, lead us to the Pineland Farms campus. After a short but bumpy ride, the travelers piled out and checked into the former home of the Maine School for the Feeble Minded, now a working farm, a diverse business campus, and educational and recreational venue. Pineland Farms is homebase to the MWSC southern Maine operations, a new country country skiing trail system, and their Healty Hometowns Ski Programs.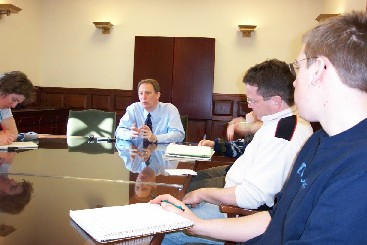 From this beautiful campus our travelers met the founder and President of the MWSC, Andy Shepard. This Gandolphian character came into the large conference room, where the fellowship was all ears as they listened to Andy's tale. He told us all the wonders of the MWSC and how and why it was established. The core mission of MWSC is to re-establish skiing as a lifestyle in Maine and to leverage that lifestyle to create a new economic model for rural, isolated communities in Maine. It also plans to further leverage that lifestyle to create opportunities for the youth of Maine. The former L.L. Bean-er's economic model is based on two principle factors, one being an event based model and the second being a tourism based model. While the model has been mostly focused on the far northern county of Aroostook, it's success has more recently spread south to Pineland Farms and Black Mtn.

Andy told the fellowship of five critical success factors that one needs to establish a great working community run ski venue. First, one needs an inspired leader, a pied piper to lead the community. Secondly, one needs strong community support. The community must feel a sense of ownership and have a hopefully build upon a history of volunteerism. Third, to attract world-class athletes, one needs to have a world-class facility and program. The MWSC inspires youth through excellence, and part of that model is to support world-class athletes at world-class venues. This builds a sense of Olympic aspiration, creating local heroes. Baron DeCoubertain, the founder of the modern Olympics said, "It is not the triumph, but the struggle." And lastly, one needs adequate and sustainable funding. Luckily for the MWSC they receive a rather generous source of funding from the Libra Foundation.

Basically, Andy is trying to appeal to school age children, athletes (both local and national caliber), adults, alpine skiers, and non-skiers as well. The Nordic programs have been tremendously successful, introducing the sport to thousands of kids and parents through affordable rental programs supported by ski companies. This year's program can put a kid on a brand new Rossignol package for $40. And if that's still a barrier, they have programs where kid's work off the $40 by waxing skis or helping with trail maintenance. This is clearly a bottom-up approach to community development: inspire youth, engage communities in healthy lifestyles, and watch the magic. Part of this magic is volunteer run venues (such as Black Mtn.) and attracting big sporting events. Their most successful to date was a recent World Cup Biathlon at their Fort Kent facilty (more on this later in the week).

After this quick overview of the Maine Winter Sports Center, and some passionate stories of inspired youth (go Russell!), the Shepard of this program went back to tend to his flock. The fellowship was soon greeted by another x-Beaner, Phil Savignano. Phil has his hands in many of the outdoor education programs at Pineland Farms and MWSC, including the Healthy Hometowns Ski Program. Phil is one of the leader's in the state in fighting health problems that face Maine's youth such as obesity, type II diabetes, smoking, and alcohol and drug abuse. The Healthy Hometowns programs work to introduce skiing at all ages to combate this health epidemic through promoting outdoor lifestyles. The keys to success have been accessibility to quality ski equipment and trails, coaching and instruction by professional staff (in fact, the same international level coaches who train elite, World Cup athletes run never-ever-ski clinics for new adult skiers), and creating healthy environments by holding kids accountable for their actions and using coaches as mentors and role models.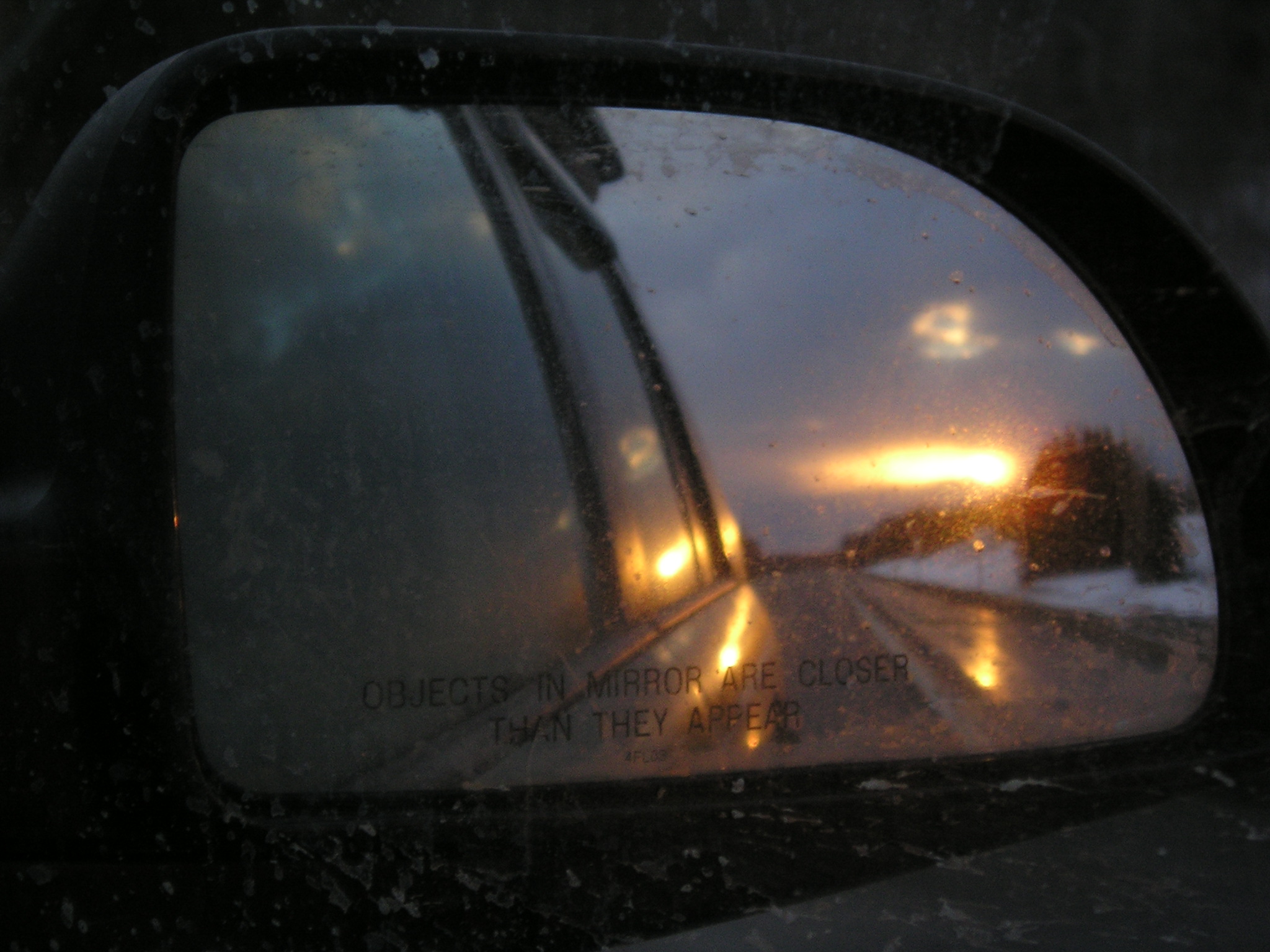 After Phil's programming discussion we ended our stay at Pineland Farms by heading over to the Visitors Center for gelatos and some lunch. A chilly lunch on the patio (more peanut butter and jelly from Jon's infamous lunch boz) after an inspiring morning, and we were ready for the longggggg trip north. During the ride to our first break in Bangor, many of us caught up on much needed rest, or worked on mission statements for a Vermont equivalent of MWSC - the overarching assingment of the class. After some dowtown at the Bangor Border's (the closest cafe latte to northern Maine) we refueled and headed north.

Jumping off the Interstate onto Route 1 North we really began to see what life was like in Aroostook County, the largest county by area east of the Mississippi, but home to just over 75,000 people. Known as the garden of Maine, agriculture and raw material production make up most of the industry. The ride provided us with views of white, snowy, wind blown fields scattered among remaining patches of thick green forest. As we drove, the van stayed perfectly quiet as we took in the winter wonderland, and imagined life in Northern Maine. It was clear that Aroostook County had fallen on hard times, however a sense of civic pride was apparant in the communities we blazed through.


We arrived in Caribou, our home base for the next three nights, just after dark and were surprised at the small urban setting that surrounded us. Our apartments were located two streets up from the center of town, where we met Haley, one of the MWSC continental team athelete who graciously shared her diggs for a night before heading off to Sweden for some cross country races. She welcomed us to her home and we instantly understood the power of engaging Maine youth with this inspirational athelete.

Famished from the ride, we ordered pizza, and feasted in one of the small 2 bedroom apartments. Kris and Jon set the bar a bit too high with our stay at Pineland Farms, but with sleeping bags in tote we made due. We discussed the day's events as well as what was to come, and presented the first drafts of our mission statements. After the meeting, the guys took in a showing of Starsky & Hutch at the local cinema, and also played a few video games on our big night out in Caribou.

After exiting the theater, we were graced with an inch or two of fresh snow, which led to a small downtown snowball fight to liven up the chilly walk home. Arriving home we decided to watch the 2002 Olympic Biathlon and excitement continued to build about the days to come.





Nick Kovacs,
taming the giant land lobster


Tuesday, March 16, 2004

Morning: Visit New Sweden School, and Swedish Heritage Museum.
Afternoon: Cross-country skiing at Caribou Ski Lodge. Meet and greet at the Nordic Heritage Center in Presque Isle and middle school race.
Evening: Spaghetti dinner and recooperation from extreme cross-country!





Mike Eichorn,
boarder turned
cross-country phenom

---
I awoke and slid the closet door open and saw the light of day. The companions were awakened by their wise and powerful, yet merciful, wizard, Jon the Great. Yet this morning he had no mercy. Today we would delve deep into the "minds" of New Sweden elementary and middle school.

The doorkeeper asked, "What is something that you can see through your eyes but cannot touch, cannot buy but can acquire, and will bring my favor or ill will on you." We figured it to be respect, and we immediately realized our traveling caps should be taken off, and bowed our heads in shame. After passing the first test, we were surrounded by the little beasts that dwelled within: the children. They told us that the colony raised arms, pilfered and robbed (though fundraisers) the families that lived around in New Sweden in order to bring in the Swedish national biathlon team from the Kingdom of Rohan. The children beamed with pride as they told us of dinner with the Swedes, and their social studies of the many countries that sent biatheletes to their own backyard. They shared powerpoint slides on their very own Macintoshs of their new found heroes and friends.

Further questioning revealed that these little beasts were enthusiastic XC skiers themselves. Rental programs combined with trail access allowed for them to easily take up the sport. Daily skiing through physical education class converted those who didn't take it up so enthusiastically. The were having fun and doing something good for their bodies and souls . . . those sneaky adults. All interrogated were excited about racing and competing, and several hoped to continue racing in high school and even college. They were enthralled with the idea of racing and now there was no turning back. Soon dozens signed up for the race team and tried to have their own look at the object of their affection, excellence. This pride spilled over to love for their hometown. Most agreed that college would be great, as long as not too far from home, but they would always come back to their home in this winter wonderland. They spoke of festivals which happened every winter, carnival Kings and Queens, playing games and rides, and the infamous 24 hour marathon ski race. People in these parts embrace winter and enjoy its cold days and deep snow.

Apparently the parents of these creatures are as far under the spell as the children. Local races are organized by volunteers, trails groomed by dedicated dads, and teams trained by community coaches. People seem to be passionate about not only encouraging XC ski racing but trying to further its relevance in their culture and lifestyle. They don't just want their child to experience individual glory, but to establish roots in the community, learn teamwork, and develop a lifelong work ethic both on and off the race course. The strive toward excellence in sport seems to also be rubbing off on their academic performance. Self-worth, pride, and healthy lifestyle take precidence over television, apathy, and leaving home. These kids were true at heart, for only the bravest and strongest of hobbits can resist the power of the ring (big city glamour). I have never met a bunch like this.

After the fellowship left our new allies at the New Sweden School we headed to the local Swedish Heritage Museum to learn about local culture and its influence on today's population and lifestyles. After a few minutes of waiting and some phone calls we were greeted by Doug Anderson, a local who was involved in many different projects, as well as heading the museum. He was kind enough to open the museum up just for our class and give us a private tour and a great synopsis of the museum relics. The town of New Sweden has deep roots in the Nordic ski culture. The small town of 600 has been involved in skiing since day one and is arguably the birthplace of the Nordic ski in North America, but don't talk to Alaskans about that. The museum was covered with pictures, clothing and equipment dating back the original Swedish settlement. Doug, and 4th generation New Swede, showed us his father's and grandfather's skis, an amazing old pair of wooden planks and leather bindings. At the conclusion of our museum tour Doug said that it wouldn't be a complete experience in northern Maine unless we visited the infamous Stan's, a local haunt for grub and coffee. We added Stan's to our places to visit (only to be disappointed day's later as Captain Jon missed the turn).

Next it was time to do some skiing, Nordic skiing. This was a completely new experience for many of us, especially us snowboarders. We arrived at the Caribou Nordic center, in the shire, where we were met by a MWSC trailer full of Nordic gear for us to pick from. Now, unlike most of the places we visited, the Caribou ski lodge was not a MWSC project. The Caribou community, inspired by re-discovered roots of XC skiing in neighboring communities, raised their own money to build a lodge, design a lighted trail system, and install their very own snowmaking system behind the local high school. A little rope tow hill for alpine is in the works. It goes to show how the MWSC mission is taking hold in northern Maine.

It was time to hit the trails. I took one step and fell flat on my face only to be passed by most of the class. However, after many falls and minor pain I was able to get a slight grasp on how to stay on my feet. I arrived at an open field with snow guns and a rather large pile of snow that everyone was standing on and jumping off. We quickly took XC skiing to a new level. Captain Jon showed us a couple of daring front flips and Brooke led the charge off some small jumps, and a decent size "cliff" drop. Phil had explained to us days before that all he needed was a patch of snow to inspire kids to take up skiing for a lifetime. If anyone doubted him them, they didn't anymore. After lots of laughs and an great time on our own bump of snow, it was time for some speed. So we headed over to the man made Alpine Hill behind the school and held some downhill races. The first race was between Brooke, Nate, and the Captain. I am not sure who won as it was a very close finish, we'll have to ask them. Next were Nick and Alex. After a sketchy start Nick composed himself and passed Alex who was trying to fly. It was getting close to our departure time but not before Nick took the fall of the day with a nice knee/face plant off of a small step down jump (all on video). Overall, our cross-country experience was incredible and we started to not only understand, but experience the power of the MWSC mission.

Next it was off to Presque Isle for a bigger taste of the MWSC and a venue that they created from scratch. The Nordic Heritage Center was awesome, including some great trails for skiing, a shooting range for biathlon, and even a terrain park from cross-country skiers. The beautiful community-run lodge was free and open to the public, and homebase to some more world-class athletes in residence. We were fortunate enough to be able to watch our friends from New Sweden in their middle school races. It was really something to see all the parent and fan support. The people were very friendly and were easy to talk to about the Heritage center and the MWSC in general. This venue took a lot of work from the community and the 12 landowners in the area to get moving along, but people came together and this world-class venue was built. Plans are in the works to host the 2006 World Junior Biathlon Championship, and if the professionalism and pride evident in the middle school is any evidence, it will be a huge success. Volunteers were everywhere, from judging and scoring, to coaching, construction, and trail maintenance. Echoes of the volunteer spirit and commitment discovered at Black Mtn. were alive and well in Presque Isle.

After departing from the Nordic Center we headed back to our apartment in the shire on a very bumpy ride (northern Maine is frost heave heaven). We were all famished and Captain Jon went and hunted down food for us to cook up. Spaghetti was on the menu and Jackie whipped up an awesome dinner, thanks Jackie! With full stomachs and busy days behind and ahead of us, we were ready to kick back and relax in front of the TV. With no cable to distract us from our mission, we settled into another round of 2002 Olympic highlights, but this time as a fellowship of newly converted cross-country skiers!.


Alex Feher, showing off on XC skis


Wednesday, March 17, 2004

Morning:
Afternoon:
Evening:





Jeremiah Greco,
thinking hard.

---
The Fellowship of (newly appointed) Captain Jon Erickson, "The Economist," had previously been referred to as the "wide-eyed travelers," but were quite the contrary on this cold and dreary morning; a morning that quite clearly reflected their attitudes. However, appearances of these masterfully selected individuals have earned them the reputation of being equally as deceptive.
At the Loring Air Force Base, the silver transport delivered them. Slow, silent steps carried their bodies, while glossy, yet perceptive eyes guided their unsure path. The destination was a far conference room in the right wing of the structure. Stealth was unnecessary thanks to numerous greetings made by the employees of this facility. For the most part, the company held back while Captain Economist and his strategist Kris Cheney-Seymour handled these unexpected encounters. A few minutes passed and the destination was reached. With game faces on, the Catamounts were ready to obtain the knowledge they desired. Stern, weatherworn faces and hawk-like glares greeted previous president and CEO of the Loring Development Authority, current Maine Winter Sport Center Chairman of the Board, and future congressman, Brian Hamel. Interrogations of Mr. Hamel lasted for a little over an hour before the students felt content with the information they received. Evidentially, the old Loring Air Force Base employed over 1,100 strong while in operation. It's demise in 1994, due to relocation, caused serious problems for the economy in the area. Being a fairly low-income area even with the base operating, one can only imagine the tremendous impact that the closing of the base had on its residents. Before they knew it, businesses closed, people moved elsewhere, and this region was in serious risk of becoming a desolate place. Remarkably, Mr. Hamel and his team were able to add 1,500 jobs to this old air force base in only 10 years; that's over 100% of the civilian jobs that were lost when the base closed! These recently established jobs, along with big events and shows hosted at the former air force base are just the beginning of an increase in revenue for this region in Maine. The Maine Winter Sport Center and its motto of "reestablishing winter sports as a lifestyle in Maine," is another contributor that has begun to jump start the community along with new amenity based businesses that have and are being constructed to support the events the Maine Winter Sport Center and Loring Air Force Base host. It's because of this type of involvement and improvement upon this community, and in such a short period of time, that the UVM students sincerely appreciated his shared experience and hopes to see him in one of Maine's two seats of congress.
With enlightened minds and empty stomachs, the aspiring students quickly grabbed some grub at the encampment and proceeded to head out for their last couple of hours of X-treme Nordic skiing that they had so surprisingly, or not so surprisingly, embraced. Upon walking into the ski lodge at Caribou High School, the Fellowship was graced with the unique sight of two countries uniting for the first time to ski, sled, eat some donuts, and share some wonderful experiences with one another. Even though they speak two separate languages, the students of a high school in Quebec and the students from Caribou were able to become pretty avid pen pals and from the looks of it, friends too. Apparently these two schools were doing an exchange program with one another, and have been communicating with each other for some time. The students, faculty, parents, and community were in full swing to make this event happen both before and during the day. It was an experience that really stood out in the Fellowships mind, providing yet another one of the benefits that a foundation, such as the Maine Winter Sports Center, can have on a community. Without them there would be no trails to ski on and no lodge to drink hot chocolate and chat in.
So, as boots were tied and pole straps adjusted, spirits of the Fellowship were drastically rising, and with them rose the sun in the sky. Before they knew it, their last two hours of Nordic skiing, jumping, telemarkering, and enough spinning to out do a draeddel, were over. It would then be off to the Nordic Heritage Center and then to the one and only, Big Rock Mountain.

We departed from the apartment after barely satisfying ourselves on what rations were left in "the bin" and in the fridge from the previous nights dinner. The specials for the day included salad served in a Nature Valley Granola Bar box and cold, plain pasta served in the lid of a pot.
We arrived back at the Nordic Heritage Center (NHC) in Presque Isle to meet with Rob Keiffer, Ray Hughes and Max Saenger. Rob who owns a real estate company, lives and works in Presque Isle. Once an avid snowmobiler he participates in many of the local cross country races and has three daughters who are all involved in the cross country programs at NHC.
As a small business owner, Rob sees the publicity of the MWSC facilities as a potential goldmine. With millions of viewers oversees who will hopefully visit the area and the world class facilities being looked at amenities for homeowners, (Caribou was recently ranked one of the top 10 places to own a second home in the US) things are looking brighter for small businesses in Aroostook County.
He also mentioned how the future is looking brighter for the kids.
"The championship used to be the end of the line but the world is now available to these kids".
Ray Hughes is a banker by day and the president of the Nordic Heritage Ski Club by night. Much of his focus is directed towards the events that take place at NHC. He recalls a time when races would never start on time and organizations seemed not to be a concern.
With Ray behind the wheel, the Nordic Heritage Ski Club centers their attention around the precise execution of events and running high quality races. Ray credits the participation of the hordes of volunteers for the success of NHC and MWSC.
A World Cup biathlete, coach, dual citizen (Switzerland and US), foreign language master, and all-round great guy, Max Saenger has a wealth of experience under his young Chief Operating Officer belt.
Having lived in Switzerland on and off through childhood and as a young adult he was able to see many of the ski towns in isolated valleys as a local. He saw how these little villages hade a inexpressible sense of pride that he had not seen around his hometown in upstate New York.
Upon hearing about the mission of MWSC, he saw something familiar in this northern county, a group of communities that shared this same sense of pride in themselves and in their heritage. Nordic skiing being such a large part if this Swedish heritage of Aroostook County, Max new that these communities held great potential, and that if MWSC could work anywhere, Aroostook County would be the place to start.
Wednesday Evening: "Hey, I wonder why they call this place BIG ROCK", was the sarcastic remark that echoed through most of our heads as we calculated the amount of P-TEX it would take to fill the gouges and "core shots" torn through the bases of our shred sticks.
Despite the damage to our gear, this mountain treated us to some amazing "backcountry" skiing, and dramatic views of Aroostook County including a blazing sunset over the next ridge of mountains.
Once again we had a goal of talking to locals to get their perspective on MWSC so that we would not forget that we were in class and getting three credits for playing on snow.
There was something different in the responses from these people however. Even the remarks that sounded positive at first, were analyzed later to be rooted in false hopes and rumor.
A new lift? "We'll they've been saying that for years. That'll never happen!"
"We can't get a new shovel but (MWSC) is driving around in a fleet of $30,000 vans".
False perceptions of the operations of MWSC and what they have done for the other facilities, plagued the residents of Mars Hill and the employees of Big Rock.
The black sheep of the MWSC facilities, Big Rock was unable to secure outside funding like the other centers. This sense of failure while lacking the excitement and volunteers of the other MWSC facilities, Big Rock and it's communities have not seen the success of the communities like Presque Isle, Fort Kent and even Rumford.
There could be a number of reasons for why Mars Hill has not shared in this early success but it may be because they have, apparently not put in the effort or have not bounced back from an initial rejection to further pursue the MWSC goal.
"Why would you want to come here", asked the waitress in the NASCAR-cloaked Al's Diner. While downtown Mars Hill sits at the foot of Big Rock, it seems that its residents are unaware of the potential that this 1000 ft "black diamond in the rough" ("yah know, a skiing thing") has.
And I think I know just the potential General Manager to give a healthy shock to Big Rock. Email jeremiah.greco@uvm.edu for a resume!






Jackie B.,
the lone girl . . . and
loving it!

Thursday, March 18, 2004



Brooke Scatchard,
demonstrating the snow-
bike stunt roll

---
After watching the Fort Kent Biathlon tape, we were all anxious to see the MWSC's famed venue. The fellowship awoke early, despite exhaustion from the previous day's skiing, to clean the penthouse. During which, Nate's wallet searching ceased after Alex came through with a long throw to home. Note to Nate: Next time you lose something, always be sure that under the bed is the FIRST place you should look.
We piled into the van/Saturn and headed north. We weren't able to give autograph's at Stan's due to misdirection, but that's okay; we'll be back. I am sure not too much will change. We arrived safely in Fort Kent, many of us with hungry bellies. "The little town that could" welcomed us on a bank sign, and we were all prepared to take in our anticipated destination. The gang split up, majority gracing Paula's presence at Rock's Diner. Good eatin' soon sent us further north to the 10th Mountain Lodge, where we were met by Kris and taken on a brief tour through the famous host of the 2004 Biathalon.
Fort Kent seemed to be the turning point of our trip. Basically all of the biggest accomplishments took place throughout the state of Maine, but the one event that gave them perhaps the most pride was the 2004 Biathalon. Without the Biathalon, millions would still be in the dark not only about Fort Kent's location, but about the amenities that the 10th Mountain has to offer. Millions of spectators were able to realize (due to the Biathalon's promotions and popularity) that northern Maine has a facility that is just as offering and professional as any other location that had or would host the World Cup in the future. In terms of the economy, just hosting the event allowed so much money to trickle back into Ft Kent's economy, even if it was just to fill up a gas tank or buy a sandwich in town. This publicity shouted out "Fort Kent" to spectators, and I am sure it is a location they won't soon forget.
After our tour, we were introduced to Nancy and Jerry. Jerry, Chief of Range at the World Cup Biathalon, was a history buff, and informed us on life before the 10th Mountain Lodge was built, how it came about, and the efforts put into its construction. I don't think any of us willn ever look at a set of spectator bleachers the same wasy after Jerry's tales. Nancy was the chief of volunteers, and was basically accredited for running the entire biathalon. What I took away most from Nancy was her constant emphasis on
the importance of volunteers and community. When asked how it was started, Nancy simply replied: "You need a dream, and you need people to buy into that dream."
Her and Jerry were also quick to admit that the volunteers were who they owe most of the Biathalon's success to. Without the 500 or so participants who were willing to donate their time, sweat, and effort, the World Cup would not have moved so smoothly. All in all, they ran the event with their persistence, determination, and pride. "The little town that could.." did. Overall, the two were extremely proud, not only of the biathalon and autographed skiis, but of the 10th MOuntain's accomplishments, as well. Before closing, Kris, Nancy, and Jerry all went on to comment on the situation occuring in Mars Hill. Their budget was mentioned, and we all realized that, as Nancy had stated, a different perception is sometimes the biggest culprit in terms of who to blame and what the real problem at hand is.

The sport of biathlon has been attracting worldwide competitors and spectators since its Olympic debut in the 1936 Winter Games in Germany. Biathlon entails cross country skiing with a rifle on your back around a marked loop that leads to a shooting range. The skiers take a break from skiing to shoot at five small targets 50 meters away and continue racing for the finish. Today, there is a World Cup circuit that features exciting mass start, pursuit, and individual races. The 10th Mountain Lodge recently hosted a tremendously successful World Cup race that was televised across Europe. The publicity from the Fort Kent Biathlon World Cup has created an impressive picture of Aroostook County that is drawing tourists from around the world.
Kris led The Fellowship on a tour of the 10th Mountain Lodge and showed us the rooms for athletes who are supported by the Maine Winter Sports Center. They have a great program for developing racers that provides coaching, travel money, and a room with access to world class trails, facilities, and a sauna. We went downstairs for a safety lesson on the .22 rifles used for biathlon. Kris claimed that the pros have practiced so much that they could line up the first shot and nail the remaining four targets blindfolded.
Having watched videos of the race at Fort Kent and the 2002 Salt Lake Olympics, we understood the basics of biathlon and the excitement that the competitions produce. The Fellowship walked out onto the groomed corduroy snow of the stadium area and set up two shooting stations on the 30 person range. Kris gave us a demonstration of good aim by quickly hitting all five targets. We were all encouraged by his impressive display of precision and more than ready to knock down the discs ourselves.
The shooting commenced and good aim continued as Alex and Nick took down nearly all of their targets. The rest of The Fellowship was also able to line up quite a few good shots. After a practice round, we played a game where two people shoot at the same targets until one person hit three of five discs. This was a fun way to simulate the pressure of racing against competitors and the clock in a biathlon race. We could hardly imagine the difficulty of pulling off steady shots after skiing a few kilometers, but were intrigued by this idea. There was discussion of a trail network near Burlington with a target range accessed by the trail that could really motivate people to ski for their shots.
We climbed into the van and headed up the bumpy road to Quebec City. The back of the bus bounced so vigorously that everyone in the last row was repeatedly launched out of their seats. After an easy border crossing, we had to wait for a long train at three road crossings in a row (Brooke counted 109 cars). The drive continued for hours as we rocked to the music and belted out "Take On Me" for Mike's video camera. We stopped for dinner at Normandin where choosing meals from a picture menu couldn't even hide our meager knowledge of French. Near the end of a nice meal with plenty of poutine, The Captain figure out the reason behind Mike's dislike for mayonnaise. With full bellies and jovial spirits, we cruised into beautiful Quebec City as Nate looked for the biggest wall to scale. A fun night of wandering the old town unveiled some treasures of Quebec City including an ice skating rink, groomed ski trial, and the Napoleon tavern.



Friday and Saturday, March 19 and 20, 2004

Our big night out was followed by some rad schussing at Mount St. Anne. The Fellowship was happy every time we were on skis during the journey, but something about our last day on snow made us particularly enthusiastic. The perfectly crafted jumps, smooth groomers, and a dusting of powder in the woods entertained us all day long. This trip had us wondering why the rest of the world couldn't be more like northern Maine and Canada: community minded and snowy.



Last modified September 02 2014 05:14 PM