© Jan Decher 2001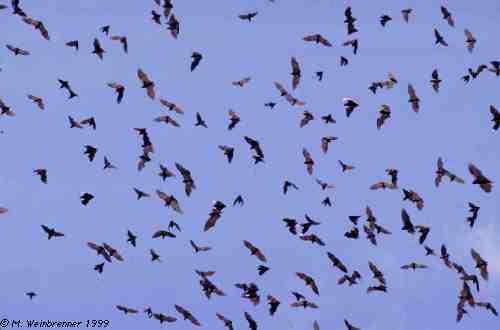 Straw-coloured fruit bats (Eidolon helvum)at Wli Waterfall (Photo © M. Weinbrenner 1999)

Small Mammal Zoogeography and Diversity in West African Forest Remnants

Progress Report to the
National Geographic Society Committee for Research and Exploration (Grant 6583-99)
and the Ghana Wildlife Division
by
Jan Decher1, C. W. Kilpatrick1, and Kanton L. Bahian2

1 Univ. of Vermont, Dept. of Biology, Marsh Life Science, Burlington, Vermont 05405-0086. USA0

2 Wildlife Division, Kyabobo National Park, Nkwanta, Volta Region, Ghana
Abstract
We examine small mammal (insectivore, bat, and rodent) diversity in traditionally protected sacred groves and other forest remnants across a zoologically little known area of West Africa, the Volta Region of Ghana. In the case of sacred groves, most surveys have focussed on their botanical, ethnobotanical, or sociocultural function. Previous research on the Accra Plains of Ghana indicated that they are important as refuges for certain small mammal species. Many traditionally protected forests are now threatened by population growth and by the gradual loss of the traditional protecting mechanisms. Based on our findings, we will recommend conservation guidelines for traditionally protected forests and explore the involvement of local village communities in national wildlife protection efforts, as in the proposed Kyabobo Range National Park. The study should also generally improve our understanding of the distribution of several mammal species in the Volta Region.
1. Introduction
In the last 300 to 400 years wildlife abundance and diversity in West Africa have declined on a large scale. This decline has greatly accelerated during the last two to three decades. The main reasons for this decline have been the widespread loss of original habitat due to the promotion of species-poor monocultures (cocoa, oil-palms, rubber trees), an increase of small private farms, and growing hunting pressure, in combination with annual uncontrolled burning of habitats. In Ghana, the only remains of original forest are found in the patchwork of managed forest reserves established in the 1920's, in the three high forest National Parks (Bia, Kakum, and Ankasa Conservation Areas), and in the so-called "sacred groves" - traditionally protected forest patches ranging in size from a few trees to several hundred hectares. These groves are protected by religious taboos enforced by local villages. Recent efforts to enumerate and assess the biodiversity of sacred groves in Ghana and elsewhere have focussed mainly on botanical, ethnobotanical, or sociocultural aspects (Amoako-Atta, 1995; Dorm-Adzobu et al., 1991; Gadgil and Vartak, 1981; Gordon, 1992).
A previous study of small mammal ecology and conservation on the Accra Plains in southern Ghana indicated that sacred groves contain higher small mammal biomass than surrounding areas and that they function as refuges to some small mammal species no longer found anywhere else (Decher, 1997; Decher et al. 1997; Decher and Bahian, 1999). The present study examines sacred groves and other forest relicts in the Volta Region of Ghana with the following objectives:
1) Assess the diversity and abundance of small mammal species (main emphasis will be on shrews, bats, and rodents) in sacred groves and other forest remnants along the Togo border in the Volta Region of Ghana.

2) Clarify the distributional limits and systematic position of several genera and species in this region.

3) Provide Ghanaian conservation officials and guardians of sacred groves with better ecological data and conservation recommendations to continue to protect the remaining forest sites for the future.

2. Materials and Methods
Shrew, bats, and rodents are captured at several forest localities in the Volta Region (Click here for map and sampling sites). Techniques used comply with recently published standard methods for measuring and monitoring mammal diversity (Wilson et al. 1996), guidelines approved by the American Society of Mammalogists (Animal Care and Use Committee, 1998), and the Institutional Animal Care and Use Committee (IACUC) of the University of Vermont. Voucher specimens are being collected for the correct identification of species including tissue samples for later molecular systematic analysis. We also collect mammal ectoparasites. Voucher specimens are deposited at museum collections based on the location of experts for the different taxonomic groups: a) Insectivores, at the Museum Alexander Koenig, Bonn (R. Hutterer); b) Bats, at the Senckenberg Museum, Frankfurt (D. Kock & J. Fahr); and c) Rodents, at the University of Vermont, Burlington (J. Decher and W. Kilpatrick). Synoptic reference collections will be prepared for the Wildlife Division in Ghana and the University of Vermont, Department of Biology. Information on some of the larger arboreal and diurnal species (squirrels, scaly-tailed flying squirrels, primates, small carnivores) will be obtained by interviewing local people and taking standardized early morning transect walks (Emmons, 1980) using high quality binoculars and a small portable digital video camera. Notes on the microhabitat of each captured or observed animal will be recorded on standardized habitat data sheets.
We photograph all live-trapped species in preparation for an illustrated field guide and key to the mammals of the Upper Guinea Region. Such a book is urgently needed as a teaching tool and conservation reference for secondary school teachers, university students, Wildlife Division staff, and other interested naturalists in this region.
In the case of the traditionally protected habitat a small questionnaire and informal discussions will be used during the second field season to survey attitudes and intentions of the local people toward their protected forest and the mammal species present. All key participants involved, including local village representatives, are be kept informed regarding the objectives and progress of this study and will receive the final report and conservation recommendations.
Trapping effort during the first field season was approximately the same for four sites visited during the first field season. We used a total of 142 traps: 1 large and 100 standard Sherman live traps, 7 large and 2 smaller Tomahawk live traps, 20 Museum Special, and 12 Victor rat traps. We also employed lines of pitfall traps using local plastic buckets and plastic drift fences in each habitat. Bats are captured with standard mist nets set in forest flyways or across small streams. Some new sites will be added in the second field season and some previously sampled sites will be revisited for additional information.

4. First Results and Discussion
4.1 Terrestrial Small Mammals
Table 1 summarizes the non-flying small mammal species found during the first field season. The list includes a few species only observed and specimens brought to us by local people from other unspecified localities nearby. Trapping success ranged from 0 to 11.3%. The privately managed forest near the town of Apesokubi was the most diverse site with seven species captured and with the highest biomass - quite similar to sacred groves on the Accra Plains (Decher and Bahian, 1999). There were no captures at Kyabobo Range National Park probably because of the extremely dry conditions and previous forest fires (also see comments under 4.3.4 below).
Initial identification of terrestrial mammals was based on Rosevear (1996) and Meester and Setzer (1971). The identification of Dephomys defua was based on Van der Straeten (1984) and that of Malacomys edwardsi was based on comparisons with measurements published by Van der Straeten and Verheyen (1979). The Praomys group may consist of more than one species and details remain to be resolved. Shrews were identified by R. Hutterer at the Museum Alexander Koenig, Bonn (in litt.).
Table 1: Non-volant small mammal species verified in 4 different habitats in the Volta Region of Ghana in December 1999.
| | | | | | |
| --- | --- | --- | --- | --- | --- |
| | Location: | Kalakpa | Wli | Apesokubi | Kyabobo |
| | Source of forest protection: | legal | legal & traditional | traditional | legal |
| Scientific Name | Common Name | | | | |
| R o d e n t s : | | | | | |
| Praomys sp.1 | Soft-furred mice | 48 | 12 | 29 | |
| Malacomys edwardsi | Edward's swamp rat | | | 3 | |
| Dephomys defua | Defua Mouse | | | 1 | |
| Hylomyscus alleni | Allen's Wood Mouse | | | 2 | |
| Lemniscomys striatus | Striped grass mouse | | 1 | 1 | |
| Graphiurus nagtglasii | African Dormouse | | | 3 | |
| Mus musculoides3 | Pygmy Mouse | 1 | 1 | | |
| Tatera kempi 3 | Kemp's savanna gerbil | 1 | | | |
| Anomalurus beecrofti4 | Beecroft's scaly-tailed flying squirrel | | 1 | | |
| Paraxerus poensis2 | Green Bush Squirrel | | 1 | | |
| Xerus erythropus2 | Striped ground squirrel | | 1 | | |
| S h r e w s: | | | | | |
| Crocidura cf. douceti | Doucet'sMusk Shrew | | | 1 | |
| Crocidura foxi | Fox's Musk shrew | | | 2 | |
| P r i m a t e s: | | | | | |
| Galago or Galagoides sp.2 | Bushbaby | | | | |
| | Number of Nights: | 3 | 3 | 3 | 2 |
| | Trapnights: | 426 | 426 | 426 | 284 |
| | Totals captured: | 50 | 14 | 42 | 0 |
| | Trap success: | 11.7 % | 3.3 % | 9.9 % | 0 |
| | Total biomass sampled: | 1437.4 g | 409.4 g | 1737.7 g | 0 g |
1 Species probably tullbergi and possibly one or two other species - taxonomy not currently resolved.
2 Observed, or signs and local informants only.
3 Specimen brought to us from nearby unspecified locality.
4 Specimen brought to us by local hunter.
5 Biomass = average weights of trapped species X number of individuals caught at each site, for this field season


4.2 Bats

Mist nets for capturing bats were set along or across paths or waterways inside the forest or at the edge of the forest. At Apesokubi one net was also placed in a small farm near our campsite. Initial identification of bats was based on Meester and Setzer (1971) and Happold (1987). Final identification of bats was provided by D. Kock and J. Fahr at the Senckenberg Museum, Frankfurt (in litt.). To date 10 species of bats have been documented by this study (Table 2).

Table 2: Presence of Bats verified in 4 different habitats in the Volta Region of Ghana in December 1999.
| | | | | | |
| --- | --- | --- | --- | --- | --- |
| | Location: | Kalakpa | Wli | Apesokubi | Kyabobo |
| | Source of Forest Protection: | legal | legal & traditional | traditional | legal |
| Scientific Name | Common Name | | | | |
| Epomops franqueti | Singing fruit bat | 2 | 1 | | |
| Epomophorus gambianus | Epauletted fruit bat | 1 | | | |
| Micropteropus pusillus | Dwarf epauletted fruit bat | | 1 | 2 | |
| Nanonycteris veldkampi | Veldkamp's Dwarf Fruit Bat | | 1 | 1 | |
| Eidolon helvum1 | Straw-colored fruit bat | | 1 | | |
| Lissonycteris angolensis smithi | Angola fruit bat | | 1 | | |
| Rhinolophus alcyone | Halcyon horseshoe bat | 1 | 3 | | |
| Rhinolophus landeri | Lander's horseshoe bat | | 1 | | |
| Hipposideros ruber guineensis | Noack's African leaf nose bat | | 2 | 1 | |
| Myotis bocagiicupreola | Rufous mouse-eared bat | | 1 | | |
| | Totals Captured: | 4 | 12 | 4 | |
| | Number of Species: | 3 | 9 | 3 | |
1 Specimen brought to us by local hunter.


4.3 Description of sites visited during the first field season

4.3.1 Kalakpa Resource Reserve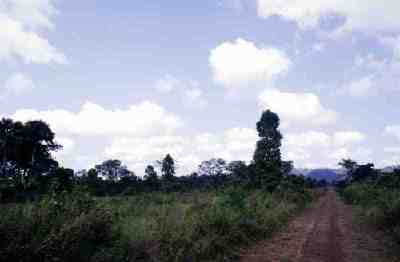 Plate 1: Roads and forest thickets at Kalakpa Resource Reserve
Photo: © M. Weinbrenner 1999
Kalakpa Resource Reserve is located in the southern Volta Region East of the Volta River and southeast of the Abutia Hills Forest Reserve between 6°18' and 6°28' N and 0°17'and 0°30' E. The area consists of mostly tree savanna with small thicket type forest remnants and gently undulating topography with a few emerging hills rising to a maximum elevation of 422 m (Kadanga Hill). Kalakpa Resources Reserve is still part of the so-called Dahomey Gap - the break in the Upper Guinea forest belt with mostly savanna and lower thicket-type forests, stretching from eastern Ghana to western Nigeria. Thus this site forms the link to a previous study of small mammals in different habitats on the Accra Plains west of the Volta River - the westernmost extension of the Dahomey Gap (Decher and Bahian, 1999).
The trap site was located at the northern edge of Kalakpa Resource Reserve near the Wildlife Division's Zitoe Camp and the cut line of the park boundary (see Plate 1). It consisted of a dense, low (10-15m tall) forest with many thickets of vines somewhat similar to Pinkwae Forest on the Accra Plains, though somewhat lusher with rich, dark soil and areas of waterlogging and intermittent small creeks. The forest floor contained many burrows of land crabs.
Trapping was conducted from 15 to 17 November 1999 and yielded 48 individuals of the rodent genus Praomys sp. Bat netting yielded three species, the fruit bats Epomophorus gambianus and Epomops franqueti (Megachiroptera), and the insect-eating bat (Microchiroptera), Rhinolophus alcyone.


4.3.2 Wli Waterfall (Agumatsa Wildlife Sanctuary)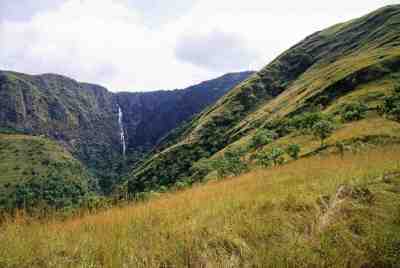 Plate 2: Wli Waterfall showing denuded hill tops
Photo: © M. Weinbrenner 1999
This area was visited from 18 to 23 November 1999. Wli Waterfall and the Agumatsa River valley are located on the Ghana-Togo border at 7°06' N and 0°37' E. The waterfall has been a tourist attraction for many decades and according to Rice (1973) is also a "fertility fetish" site for the Wli traditional area. Aside from the waterfall the main attraction of the area is the large roost of several thousand straw-colored fruit bats (Eidolon helvum) in the cliffs surrounding the waterfall. After being first surveyed in 1973 (Rice, 1973) the area is now jointly managed by a local Wli Tourist Management Team and the Ghana Wildlife Division. The area suffers from clearcutting and uncontrolled burns on all slopes and hilltops (see Plate 2) and has experienced a stunning loss of forest since it was first seen by the principal investigator in 1972. A small nursery started by the Nature Conservation Research Centre (NCRC) in Accra supports reforestation efforts. While working at Agumatsa Wildlife Sanctuary, we observed charcoal burning, collecting of firewood, and small scale farming (maize and cassava) within the sanctuary boundaries. The Wli waterfall remains a popular tourist attraction but if long-term forest conservation efforts along the Agumatsa River valley are to be successful in this sanctuary, protection efforts and cooperation with local landowners need to be much improved.
So far our trapping efforts at Wli resulted in one individual each of Praomys sp., Lemniscomys striatus,and Mus minutoides. One scaly tailed flying squirrel (Anomalurus beecrofti) was brought to us by a local hunter. Dwarf bushbabies or galagos (Galagoides/Galago sp., Primates) were observed with headlamps at night in the canopy near Agumatsa River. Bat netting resulted in one individual each of the fruit bats Micropteropus pusillus, Epomops franqueti, Epomophorus gambianus, Nanonycteris veldkampi, Lissonycteris angolensis,and Eidolon helvum, the latter brought to us by local hunter. The insect-eating suborder Microchiroptera was represented by Rhinolophus alcyone,R. landeri, Hipposideros ruber,and Myotis bocagii.

4.3.3 Apesokubi (Bedibem Forest)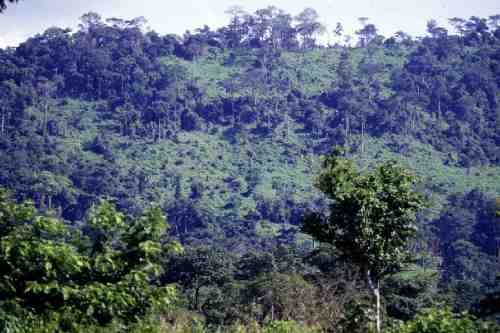 Plate 3: Forest Fragments at Apesokubi.
Photo: © M. Weinbrenner 1999

This site meets some of the definitions of a traditionally protected site: it is locally maintained and protected and not part of a forest or game reserve. Bedibem Forest is located ca. 4.1 km north of the town of Apesokubi (7°37'N, 0°24' E) adjacent to the Kabo River Forest Reserve. All forest outside of the forest reserve in this area is highly fragmented (see Plate 3). Bedibem is a small forest remnant privately owned by V. Aboagye and used for trapping by his relative D. Aboagye, who was our guide.
Trapping results indicate that this site is the most diverse site sampled so far. Seven species of terrestrial small mammals and two species of bats were found present during three days of trapping and netting. Small mammals found here and not in any of the other sites were the rodents Hylomyscus alleni, Malacomys edwardsi, Dephomys defua,and Graphiurus nagtglasii,and two species of shrews, Crocidura foxi and C. cf. douceti. The only bats caught here were Nanonycteris veldkampi, Micropteropus pusillus,and Hipposideros ruber guineensis.









4.3.4 Kyabobo Range National Park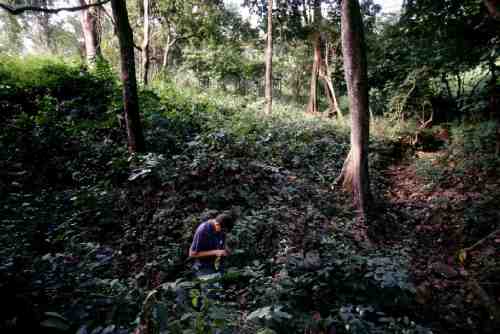 Plate 4: Trapping small mammals at Kyabobo Range National Park
Photo: © M. Weinbrenner, 1999
Another legally protected area sampled is the recently gazetted Kyabobo Range National Park (KRNP) in the Northern Volta Region. It is located between approximately 8°17' and 8°31'N latitude and 0°32' and 0°44'E longitude. The parks eastern border is congruent in part with the Ghana-Togo border and the Kue (Koué) River. To the northeast the KRNP is contiguous with the Fazao-Malfakassa National Park in Togo. Both parks have an historically interesting location overlapping in part with two "game reserves" proposed in 1913 by the then German colonial administration, which had identified this area as rich in game and worthy of protection (Reichs-Kolonialamt, 1913). Due to time and logistic constraints at the end of the first field season we trapped at KRNP for only 2 nights in a dry and rocky "riparian and montane ravine forest" (see Plate 4) near the town of Odome (8°20'N, 0°32'E). Trees in this forest showed signs of burning and there was very little undergrowth. Trapping success for the first field season at KRNP was zero. Additional sites within KRNP will be visited during the second field season.
In 1994, a preliminary study of the mammals of KRNP had been conducted by the Oxford University Expedition to Ghana. They captured a total of 43 individuals composed of 10 rodent and 2 shrew species in 11 plots and four vegetation types throughout the park .

4.3.5 Shiare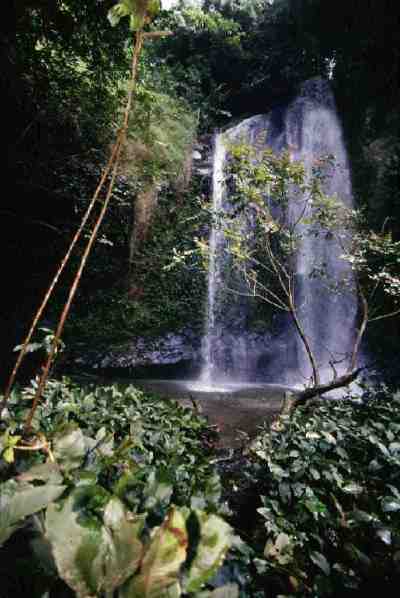 Plate 5: Forest and Waterfall near Shiare
Photo: © M. Weinbrenner 1999
We located this future study site on the last day in the Kyabobo area. Shiare is a remote mountain village located at ca. 8°17'N and 0°37'E south of Kyabobo Range National Park. On the historical map Shiare can be placed halfway on a line between the towns of Gokaron (=Gokoron) and Kjiringa (=Kyilinga) just north of Bismarckburg. On another old German map Shiare is identified as "Tsiari" in the "Adjuti" region (Karsch, 1893). Even today for the last kilometer Shiare, is still only accessible on foot, located on a steep north-facing slope and surrounded by moist semi-deciduous forest and lush secondary forest. The valley is drained by Sabu Creek and its tributaries originating in the hills around Shiare and entering the valley via several small waterfalls. Shiare is one of eight villages of the Akyode tribe, a distinct Guan language group in this area with a total of about 9000 people (Ledward and Bowes Lyon, 1996). Initially the southern border of KRNP ran just north of Shiare village but has recently been re-gazetted further north due to a conflict with the villages of Shiare and Kyillinga regarding the loss of traditional farm land through the creation of KRNP (Bahian and Hurst, 2000). Already under German colonial rule the people of Shiare were known for their independent spirit.
During our visit we had a Meeting with the elders in the town center of Shiare. Formalities included the pouring of libation and the payment of an access fee to visit a waterfall behind the village (see Plate 5). We discussed the possibility of a future survey in the area and a cooperative effort to search for the enigmatic rodent Leimacomys (see section 4.4).
Given the recent increase in number of visitors to their scenic valley, village representatives were quite interested in some form of locally controlled ecotourism and how such ecotourism could help generate some income for local community development projects.

















4.4 Search for the Togo Mouse (Leimacomys buettneri Matschie, 1893)
Both the 1994 Oxford University Expedition study and the present study attempted to rediscover the enigmatic rodent species Leimacomys buettneri but so far without success. Leimacomys was first collected by R. Büttner or his local assistant in 1890 and the locality given as Bismarckburg, which was the colonial district headquarter located east of the modern town of Yegué, about 20 km east of KRNP in Togo (08°15'N; 00°40'E). Only two specimens were preserved at the Humboldt Museum in Berlin and were subsequently described as a new species (Matschie, 1893) but they remain the only known specimens today. Several studies have since linked Leimacomys with the subfamily Dendromurinae and established that it feeds mostly on insects (Dieterlen, 1976; Denys, 1993; Misonne, 1966).
At Kyabobo Range National Park Wildlife Division field staff, who were shown pictures of these Leimacomys specimens, claimed they knew the species but we did not yet succeed in obtaining additional specimens. Similarly at Shiare, which is even closer to the original Togo locality, people seemed to know this rodent from our description by the local name "Yefuli". Attempts to obtain Leimacomys in the hills near Shiare will include further probing of the indigenous knowledge, various trapping methods, and local participation to find this and other species. The dentition and stomach contents point to a partially insectivorous diet the short tail suggests a terrestrial life style (D. Kock, pers. comm.).

4.5. Definition of "Traditionally protected forest"
The search for well-protected sacred groves similar to the ones previously found on the Accra Plains (Decher, 1997) and in other areas of Ghana (Yeboah, 1984; Dorm-Adzobu et al., 1991) proved difficult in the Volta Region. Sacred groves known to the Wildlife Society and the Wildlife Division in Accra, were described to us as being highly degraded and thus unsuitable for our search for well-preserved remnants of original forest. We propose to broaden our definition of traditionally protected areas and not just include sacred groves sensu strictu but also privately managed forest like the one sampled at Apesokubi and the community-protected forest at Wli Waterfall.
The village of Shiare includes several sacred shrines off limits to visitors and a still relatively undisturbed relationship of the local Akyode people with the surrounding natural environment. This area may thus fit the definition of a sacred landscape as proposed by P. S. Ramakrishnan who wrote (1996):
"Conserving a 'sacred landscape' will be a challenge because of the diversity in types of ecosystems interconnected with different human activities and concerns. . . sustainable development can only involve a series of compromises, which should not be based on biophysical considerations alone but on striving to integrate human dimensions into a holistic view of 'ecology' in its most all-encompassing sense [...] The sustainable development of the region must be treated as inextricably bound up with local manifestations of 'vernacular conservation'. Declaring these sacred landscapes as 'national heritage sites' would not only be a step in the right direction for conservation [...] but also for the evolution and implementation of culturally sensitive action plans for sustainable development, endorsed and supported by the empathy and wholehearted participation of the local population." (Ramakrishnan, 1996:18).
How such a view of local conservation could be realized in Shiare will be explored during the second field season in discussions with village representatives and with other conservation organizations working in the area, such as the Nature Conservation Resource Centre (NCRC).


5. Local Cooperation and Follow-up

Local cooperation and enthusiasm were excellent at all sites visited. Copies of The Kingdon Field Guide to African Mammals were donated to representatives from Kalakpa Resource Reserve, Agumatsa Wildlife Sanctuary, Shiare Village and the Forestry Division. The principal investigator is currently organizing some textbook donations and shipment of books to the towns of Apesokubi and Shiare to help alleviate the great demand for educational materials in local schools, especially in the area of natural history and conservation.


6. Special Problems and Challenges during the 1999 Field Season

The first field season and the completion of the objectives were hampered by two unforeseen challenges. The principal investigator (J. Decher) lost valuable field time for location scouting during the first week, due to a severe medical reaction to the malaria prophylaxis (Lariam-Mefloquine) causing a 3-day delay in his departure to Ghana from Boston, Massachusetts.

At the end of the first week in Ghana (12 November 1999) all optical research equipment of the principal investigator was stolen from the field vehicle in Accra, which made the proposed observation and video recording of larger arboreal and diurnal mammal species impossible. Both elements of this study still need to be addressed in a second field season.


7. Proposed Continuation of Work

A second field season is proposed for August 2001. This field season will focus on surveying small mammals at additional sites throughout Kyabobo Range National Park and the area around Shiare village, including a concerted effort to find Leimacomys buettneri. An invitation from Shiare has already been received (Mr. E. B. Ogah, in litt.). Return visits to some of the other sites are planned to complete observational work and a survey of local knowledge and conservation perspectives.

Plans are also being discussed to add a reptile and amphibian component (Dr. M.-O. Roedel, Würzburg, Germany) and to begin work on an illustrated field guide to the mammals of the Upper Guinea forest block.


Acknowledgements
We acknowledge the support and cooperation of the following individuals and organizations during the 1999 field season:

Ghana
N. K. Ankudeh, Mr Ofori-Frimpong, Mike Adu Nsiah of the Ghana Wildlife Division, Accra.
Wildlife Officer P. Darkwa and his staff S. Y. Ampeh, H. Meliba, E. Agordzo at Kalakpa Resource Reserve.
E. Gblokpor. E. Mawinya and Wildlife Division staff and A. Adibi and A. Kipo at Wli Waterfall.
Wildlife Division staff at Kyabobo Range National Park.
A. S. K. Boachie-Dapaah and F. Koomson of the Forest Services Division in Accra and Jasikan
Larseh Ashrifie and John Mason of the Nature Conservation Research Centre (NCRC) in Accra
Mr Michael P. K. Ahwireng and his family at Apesokubi.
D. Aboagye and E. Tawia for assistance in locating and working at Bedibem forest, Apesokubi.
Mr. E. B. Ogah and the elders and people of Shiare.

Germany
D. Kock and J. Fahr, Senckenberg Museum, Frankfurt.
R. Hutterer at the Museum Alexander Koenig, Bonn.
M. Weinbrenner, Photojournalist, Essen - Photography and field assistance.

USA
John Echave of the National Geographic Society - additional slide film and processing.
T. Tailer of Essex, Vermont - technical support
The D. Mills family in Boston, Massachusetts - hospitality during J. Decher's medical delay.

This study is made possible through Grants #6583-99 and 6900-00 from the
National Geographic Committee for Research and Exploration.
Literature Cited
Amoako-Atta, B. 1995. Sacred groves in Ghana. Pp. 80-95, in Cultural landscapes of universal value: components of a global strategy (B. von Droste, H. Plachter and M. Rössler, eds.). Gustav Fischer Verlag Jena, Stuttgart, :464 pp.
Animal Care and Use Committee. 1998. Guidelines for the capture, handling, and care of mammals as approved by The American Society of Mammalogists. Journal of Mammalogy, 79:1416-1431.
Bahian, K. L., and J. Hurst. 2000. Final boundary for Kyabobo Range National Park. Gikelan - the newsletter of the Kyabobo Conservation Project, 1.
Decher, J. 1997. Conservation, small mammals, and the future of sacred groves in West Africa. Biodiversity and Conservation, 6:1007-1026.
Decher, J., and L. K. Bahian. 1999. Diversity and structure of terrestrial small mammal communities in different vegetation types on the Accra Plains of Ghana. Journal of Zoology, London, 247:395-407.
Decher, J., D. A. Schlitter, and R. Hutterer. 1997. Noteworthy records of small mammals from Ghana with special emphasis on the Accra Plains. Annals of Carnegie Museum, 66:209-227.
Denys, C. 1993. Réexamen de la dentition de Leimacomys buettneri (Mammalia, Rodentia). Hypothèses sur sa position systematique. Mammalia, 57:613-618.
Dieterlen, F. 1976. Bemerkungen über Leimacomys büttneri Matschie, 1893 (Dendromurinae, Cricetidae, Rodentia). Säugetierkundliche Mitteilungen, 24:224-228.
Dorm-Adzobu, C., O. Ampadu-Agyei, and P. G. Veit. 1991. Religious beliefs and environmental protection: The Malshegu Sacred Grove in Northern Ghana. 4. World Resources Institute, and Nairobi, Kenya: Acts Press, Washington, D. C., vii + 35 pp.
Emmons, L. H. 1980. Ecology and resource partitioning among nine species of African rain forest squirrels. Ecological Monographs, 50:31-54.
Gadgil, M., and V. D. Vartak. 1981. Sacred groves of Maharashtra: an inventory. Pp. 279-294, in Glimpses of Indian Ethnobotany (S. K. Jain, ed. Oxford and IBH Publishing Company, New Delhi, :xvi + 365 pp.
Gordon, C. 1992. Sacred groves and conservation in Ghana. Newsletter of the IUCN SSC African Reptile & Amphibian Specialist Group, 1:3-4.
Happold, D. C. D. 1987. The mammals of Nigeria. Clarendon Press, Oxford, xvii + 402 pp.
Hurst, J., D. Bowes Lyon, and E. O'Keefe. 1995. Kyabobo '94: a joint Ghanaian and Oxford University Expedition. Final Report. KCP Publications, Ghana Wildlife Department, Institute for Renewable Natural Resources, 69 pp.
Karsch, F. 1893. Die Insekten der Berglandschaft Adeli in Hinterlande von Togo (Westafrika). Berliner entomologische Zeitschrift, 38:1-266.
Ledward, A., and D. Bowes Lyon. 1996. The relationship between the Akyode people and their local environment - a study in the Northern Volta Region, Ghana. Kyabobo Report Series. No. 2, 93 pp. Kyabobo Conservation Project and Wildlife Department, Kyabobo Range National Park
Matschie, P. 1893. Über anscheinend neue afrikanische Säugethiere (Leimacomys n. g.). Sitzungsbericht der Gesellschaft der naturwissenschaftlichen Freunde, Berlin, 4:107-114.
Meester, J., and H. W. Setzer. 1971. The mammals of Africa. An identification manual. Smithsonian Institution Press, Washington, vii + 15 parts pp..
Misonne, X. 1966. The systematic position of Mystromys longicaudatus Noack and of Leimacomys büttneri Matschie. Annales du Musee Royale de l'Afrique centrale, Sciences Zoologiques, 144:41-45.
Ramakrishnan, P. S. 1996. Conserving the sacred: from species to landscape. Nature & Resources, 32:11-19.
Reichs-Kolonialamt. 1913. Jagd und Wildschutz in den Deutschen Kolonien. 5. Verlag von Gustav Fischer, Jena, pp.
Rice, K. W. 1973. A faunal survey of Agumatsa Waterfall area, Volta Region. Ghana Department of Game and Wildlife, unpubl. Report.
Rosevear, D. R. 1969. The rodents of West Africa. British Museum of Natural History, London, xii + 604 pp.
Van der Straeten, E. 1984. Etude biometrique des genres Dephomys et Stochomys avec quelques notes taxonomiques (Mammalia, Muridae). Revue Zoologie Africaine, 98:771-798.
Van der Straeten, E., and W. N. Verheyen. 1979. Notes taxonomiques sur les Malacomys de l'Ouest africain avec redescription du patron chromosomique de Malacomys edwardsi (Mammalia, Muridae). Revue Zoologie Africaine, 93:10-35.
Wilson, D. E., F. R. Cole, J. D. Nichols, R. Rudran, and M. S. Foster. 1996. Measuring and monitoring biological diversity. Standard methods for mammals. Smithsonian Institution Press, Washington, xxvii + 409 pp.
Yeboah, S. 1984. Small rodent ecology in two contrasting habitats: primary forest and farmland in eastern Ghana. Doctoral Dissertation, University of Aberdeen, 222 pp.

© Jan Decher 2001. Document last updated: 12 June 2001.