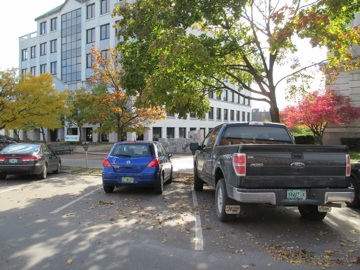 Strong Theatre Main Street, date stamped 1911. Postcard courtesy of Special Collections, UVM Bailey-Howe Library.
Courthouse Plaza Building at Main Street looking southeast, October 20, 2012. Photographed by Suzanne Mantegna.
The Sanborn maps for 1896 and earlier show a 25-foot ravine that ran alongside the 1872 courthouse to where present day South Winooski Avenue intersects Main Street, and until the 1906 Sanborn map, Winooski Avenue came to a T at Main Street. The filling of this land allowed the Strong Theatre Block to be constructed, and the Elm Street Extension to be put through.(1) It was not until several years later that Elm Street was renamed South Winooski Avenue. On October 24, 1904 the new theatre opened with seating for 1,500 patrons. Allen writes in About Burlington Vermont "it is tastefully ornamented, has a large stage with modern apparatus, dressing and retiring rooms, ladies' parlor, and a smoking room, all convenient and handsomely furnished. The building is practically fireproof, with ample fire-escapes."(2) Additionally, the interior of the theatre had two balconies. The 3 ½- story symmetrical five bay brick building with brick pilasters and cornice also had room for storefronts: a hardware store (Strong Hardware), a saloon and a restaurant.(3) The five bays are arched; the center bay was one window wide and was capped with a peaked gable. The two bays flanking the center each had two arched windows separated by a pilaster. The arched entrance to the theatre was in the center bay and was capped with a stone lintel, and appears to be flanked with terra cotta caryatids.
A fire broke out around 1 a.m. on October 9, 1971 in the rear of The Strong building. Arson was suspected according to the fire marshal. The building was destroyed and razed that day.(4) In 1987 the modern 6-story glass and concrete/marble building was built.(5)
1. Sanborn Insurance Maps of Burlington, Vermont (Sanborn Map Company, March 1906), sheets 22-3, 26-8.
2. Charles E. Allen, About Burlington Vermont (Burlington, VT: Hobart J. Shanley and Company, 1905), 82.
3. Sanborn Insurance Maps of Burlington, Vermont (Sanborn Map Company, March 1906), sheets 22-3, 26-8.
4. Stuart Perry, "Strong Theatre Destroyed by Fire," Burlington Free Press (Burlington, VT), October 11, 1971, p. 1.
5. David J. Blow, Historic Guide to Burlington Neighborhoods, vol. 2 (Burlington, VT: Chittenden County Historical Society, 1997), 192-3.
Researched by Suzanne Mantegna