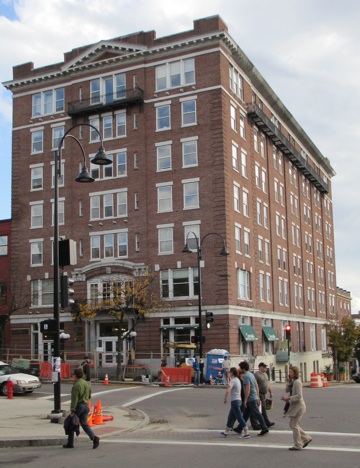 Hotel Vermont circa 1911. Postcard courtesy of Special Collection, UVM Bailey-Howe Library.
Vermont House from St. Paul Street looking south, October 20, 2012. Photographed by Suzanne Mantegna.
The Hotel Vermont, 131 Main Street, was the idea of local Burlington businessman, Max Powell, and built in 1911. After the 1906 fire destroyed the American Hotel on the same site, architect George M. Bartlett of New York, was hired to design the new hotel. The seven-story brick building with a slate roof, stone courses and basement is built in the Colonial Revival style and features brick quoins, and a dentil molding cornice of pressed metal.(1) For many years the 200-room hotel was the tallest and swankiest building in Burlington. John and Robert Kennedy visited in 1960 and then Vice-President Lyndon Johnson stayed there in 1963.(2) A glass enclosed solarium grille on the roof was one of the main attractions and had 360-degree views. There was also a 14' wide tile walkway surrounding the solarium for taking in the views. The hotel remained open during the depression, and was later sold to E. P. Woodbury (son of U. A. Woodbury) and E. Cantwell in 1936.(3)
After World War II, the Hotel Vermont remained in business, but slowly became a victim of America's love for the automobile and inexpensive motels. It closed in 1970. The Hotel Vermont was converted into 74 efficiency apartments and renamed Park Centre Apartments. In 1986, the building was purchased and transformed inside into 57 luxury condominiums and renamed Vermont House.(4) The exterior remains unchanged except that the flagpole is no longer on top of the building. Today, Senator Bernie Sanders and Congressman Peter Welsh own units there.(5)
1. Janet Biehl, "Early History, Hotel Vermont," accessed October 24, 2012, http://www.vermonthouse.org.
2. Ibid.
3. Ibid.
4. Ibid.
5. City of Burlington, Assessor's Office Online Database, accessed October 24, 2012, http://www.burlingtonvt.gov/Assessor/Property-Database/Property-Database-Search/.
Researched by Suzanne Mantegna