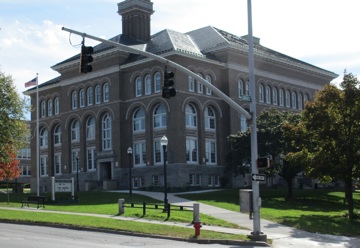 Edmunds High School from the corner of Main Street and S. Union Street looking southeast, date stamped 1908. Image courtesy of Special Collections, UVM Bailey-Howe Library.
Edmunds Middle School from Main Street and S. Union Street looking southeast, October 18, 2012. Photographed by Suzanne Mantegna.
W. R. B. Wilcox designed the three-story yellow brick Renaissance Revival high school building that opened to students on May 2, 1900.(1) The basement level was clad in rusticated stone, and there was a stone belt course between the second and third floors. The symmetrically balanced low-hipped roofed building was divided into three bays on the Main Street (left) and South Union Street (right) façades. The central bays on both the Main and South Union Streets project outward and are capped with another belt course, entablature, dentil molding, brackets and then the low-hipped roof. The stone chimney was centered over the Main Street façade. The first and second floors share arched windows capped with a simple arch hood above; the third floor has smaller paired, tri-arched (or more) windows with a simple arch hood above.
The Hopkins Map of the City of Burlington, Vermont, from 1890, has the home of George F. Edmunds marked at 305 Main Street and shows both the house and carriage trails that lined the property.(2) By 1890, the city was outgrowing the existing high school and the city council was searching for a new location. In 1898, George Edmunds who served in the U. S. Senate from 1866-1891, but had retired to California, offered his estate for the high school. Until the home was razed to build the junior high school and gymnasium in 1926, the principal of Edmunds was allowed to live in the residence.(3) The building served as the high school for Burlington until 1964.(4)
When the new high school opened on North Avenue in 1964, the Edmunds school complex became an elementary and junior high (today a middle) school. The exterior remains virtually unchanged excepting for different plantings, the addition of street lamps and signage. The main differences between the photos are: the removal of telephone wires, the addition of a traffic signal, and the re-orienting of the Main Street entrance as the primary entrance, originally the South Union was the main entrance.(5)
1. City of Burlington, Thirty-sixth Annual Report of the City of Burlington, Vermont for the year ending December 31, 1900 (Burlington, VT: Free Press Association, 1901), 58-88.
2. G. M. Hopkins, Map of the City of Burlington, VT (Hopkins Map Company: Philadelphia, 1890)
3. David J. Blow, Historic Guide to Burlington Neighborhoods, vol. 2 (Burlington, VT: Chittenden County Historical Society, 1997), 181-2.
4. Ibid.
5. Ibid.
Researched by Suzanne Mantegna