"Sigma Phi, Burlington VT." Courtesy of Special Collections, University of Vermont.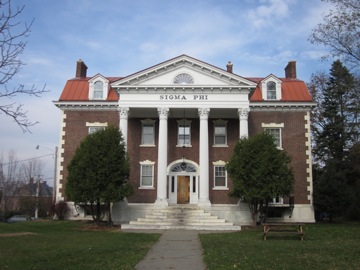 Sigma Phi, Burlington VT. Taken by Samantha Ford on November 11, 2012.
Sigma Phi House
The Sigma Phi Society was given a parcel of land located at 420 College Street on July 1, 1895 to build their chapter house at the University of Vermont.(1) In 1903 construction was finished on the Neoclassical Revival building that cost $18,000.00 to build.(2) This is a unique building near the University of Vermont campus. The Neoclassical Revival style can be seen in the large portico with a Corinthian colonnade that dominates the front of the building. Modillions line the cornice but do not wrap around the building. There are several aspects of this building that are evidence of its construction in the early 20th century. Fanlight windows are located above the front door and in the center of the portico. The gambrel roof and corner quoins give this building a character that is unique from others in the area. Two ocular windows are located on either gambrel end of the building.
This building appears to be exactly the same today, with little to no changes to the exterior. The surrounding land has been cleared and the building is easily visible from the street. Two large groups of cedar trees flank the front steps, which were not present in the postcard photo. The postcard was postmarked 1912, about nine years after the building was completed.
1. Charles E. Allen, About Burlington Vermont (Burlington, VT: Hobart J. Shanley & Company, 1905), 51.
2. Ibid.