College Street Houses, Burlington VT, view west. Courtesy of Special Collections, University of Vermont.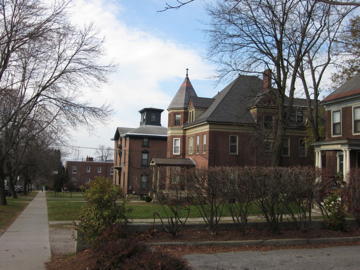 College Street Houses, Burlington VT, view west. Taken by Samantha Ford on November 11, 2012.
College Street Houses
Built in 1865 by Bennett Turk, the house is located at 368 College Street and is an excellent example of Italianate style architecture that was very popular during this time. It is the first house on the left in the photograph. Bennett Turk was the co-owner of B. Turk & Brothers Clothing Company on College Street. The Turks lived in this house until 1920, when they moved to Willard Street. In the 1921 Burlington City Directory, this property is listed as "Sanders Hall" which was a dormitory for the University of Vermont. The Turk house was converted into student housing, and it would continue to be used in this way until present day. From 1924 until 1934, Sanders Hall was used to house the Phi Mu Delta fraternity. In 1935 the City Directory once again lists it as a "UVM Dormitory" and it remained under the ownership of the University of Vermont until 1966. In 1967 it was sold to Champlain College for the use as a dormitory. It still carries the name Sanders Hall today.
The difference between the two photos is minimal. In the postcard the American elm trees that once lined Burlington's city streets are still visible. These beautiful trees were killed in the 1970s due to Dutch elm disease. Today, there are a few more trees and landscaping elements added around the houses. Bennett Turk would certainly recognize his home if he walked by it today.