Agricultural History of St. George
Agricultural History of Williston
Nineteenth Century Agricultural Census Reports
Charter

Williston received its charter from the governor of New Hampshire on June 7, 1763, designating its boundaries to be:
"Beginning on the southerly or southeasterly side of Onion or French, at the easterly, or northeasterly corner of the Burlington and runs up by said river as far as to make six miles upon a perpendicular to the upper line of Burlington aforesaid; then south by parallel to the upper line of said Burlington six miles; then westerly to a tree standing six miles from the river upon a line with head line of Burlington; then northeasterly as Burlington runs to the bound at the river began at, And that the same be and hereby is incorporated into a township by the name of Williston."1

The geography of Williston proved to be very fertile and productive due to its variety of flat lands to hills with varying types of soil, making it an ideal place to farm.2 The first governor of Vermont, Thomas Chittenden, settled in Williston around 1774, and after the Revolutionary War, he played a major role in the transformation of the territory of Vermont into its own state.3 Known as the "George Washington of Vermont," Chittenden spent much of his time on his father's farm in Connecticut before moving with Jonathan Spafford to purchase land on the Winooski River. His arrival to Vermont would eventually lead him to become the most important figure in the town, county, and eventually state in that era.
In the original charter, it dictated that land had to be farmed, or settlers would lose their titles, therefore, the inhabitants in Williston farmed a variety of crops including cows, horses, pigs, sheep, corn, rye, and wheat.4 According to The Gazetteer and Business Directory of Chittenden County, Vermont for 1882-1883 by Hamilton Child, the geography of Williston "is most admirably adapted to agriculture; it contains some hills, yet is mostly a fine level country...with just enough of hollow and dale to lend a pleasing diversity.5 Williston also possessed a variety of timber which was utilized greatly, and its access to waterways made it conducive to transportation as well. Many forests were cut away to provide more land for farming, and as a result, farmers had potash as another commodity for cash investment.6 As more families settled in Williston, the population topped one thousand by 1810, grew to over fifteen hundred by 1830, and neared one thousand seven hundred by 1850, its peak population in the nineteenth century.7
| | | | | | | | | | | |
| --- | --- | --- | --- | --- | --- | --- | --- | --- | --- | --- |
| | 1791 | 1800 | 1810 | 1820 | 1830 | 1840 | 1850 | 1860 | 1870 | 1880 |
| Williston | 471 | 836 | 1,185 | 1,246 | 1,608 | 1,554 | 1,669 | 1,479 | 1,441 | 1,342 |
| Chittenden County | 3,875 | 9,395 | 14,449 | 15,995 | 21,202 | 22,696 | 29,054 | 28,171 | 36,480 | 32,816 |
Figure One: Table illustrating population in Williston and Chittenden County from 1791-1880
(Hamilton Child, Gazetteer and Business Directory of Chittenden County, Vermont; 1882-1883
Introduction of Dairy Farms & Specialized Farming
Tracking Williston's agricultural history can show the progression and trends of individual farms as settlers reached the area and expanded their holdings. By 1830, Williston's farmers over a span of 15,000 acres of land possessed a total of 756 cows, 322 horses, and 4,400 sheep, and by 1842, the swine population emerged at almost 1,500 8 Deacon William Miller introduced to Vermont the famous Merino sheep breed in the early nineteenth century, and it grew to be a lucrative investment. As the Merino sheep trade hits its climax in Vermont, the Williston sheep population grew to over 5,550 producing almost 19,000 pounds of wool, but this trend eventually lowered as the sheep trade began to dwindle throughout the second half of the nineteenth century. 9 By 1850, Williston's dairy cow population expanded to almost 1,000 cows, most likely as a result of the increasing popularity of dairy farming. Trends show that grain production was also very successful in Williston, yielding 2,400 bushels of wheat, 1,110 bushels or rye, 18,322 bushels or corn, 19,000 bushels of oats, and over 3,000 tons of hay.10 Likewise, potatoes were also popular with almost 30,000 bushels in 1850, as well as maple syrup yielding over 5,000 pounds. 11 By the second half of the nineteenth century, it is apparent that specialization replaced diversified subsistence farming where farmers produced a variety of crops at all times of the year. Instead, farms emerged that specialized in one crop that would solely sustain their business and lifestyle. Moreover, to ameliorate the decline of the Merino sheep production, trends push towards dairy farming which allowed farmers to create milk, butter, cheese, and cream with just one breed of animal. Lewis H. Talcott started his dairy farm in 1865 with 22 cows, and in twenty years, his farm became the largest in the state with over 300 cows.12 After moving his farm to a larger location in 1885, his dairy farm yielded over 150,000 pounds of cheese and over 16,000 pounds of butter, by far the largest individual production in the town. 13 Trends like this are evident throughout Williston, such as multiple cheese factories owned by E. R. Crane and R. Brown, as well as H.S. Johnson producing cheese from over 100 and 300 cows respectively. R. Brown also manufactured butter tubs and Hiram Watson built a large cheese factory called the Oak Hill Creamery, that also produced large amounts of dairy products. Trends from the U.S. Agricultural Census show that the poultry business also expanded in the area as well. According to the 1880 U.S. Agricultural Census, residents in Williston on average kept around twenty chickens, with some farms possessing over fifty, including Lewis Talcott. 14 The trends that one can gather from these reports reveal that the dairy and poultry industries grew steadily throughout the nineteenth century without any major setbacks.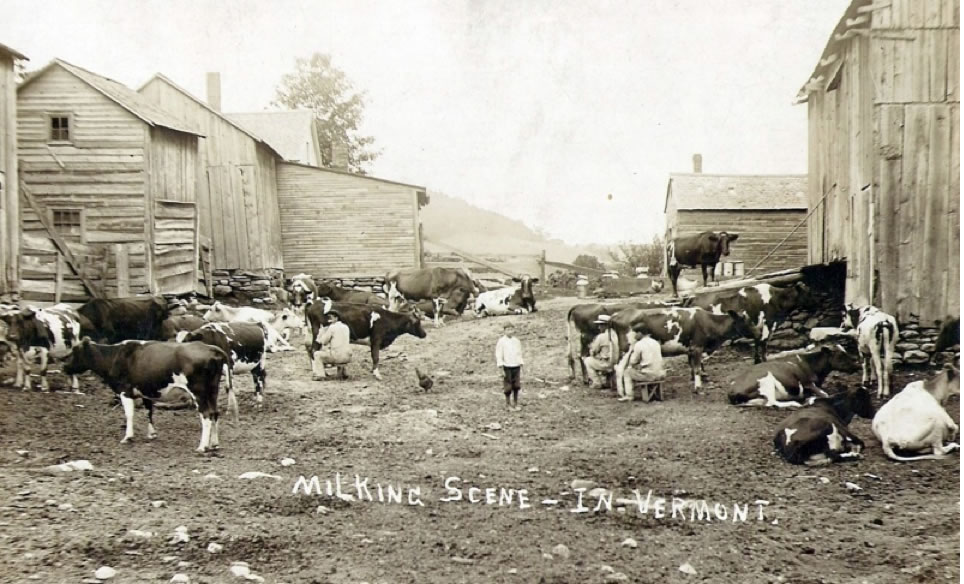 Figure Two: Milking Scene in Vermont
(Courtesy of UVM Special Collections / Landscape Change Program)
Innovation and Expansion of Prominent Families

With the arrival of the railroads, Williston hit its boom, as the Vermont Central Railroad made a stop in North Williston near the Winooski River. There, many businesses such as lumber mills and cold storage plants, established themselves close to this pivotal location for transportation.15 Noted by Childs and W.S. Rann, Smith Wright introduced in 1876 what is most likely the first storage freezer in the United States which allowed poultry to be frozen while still retaining its freshness as it traveled by rail to its buyers. 16 This storage tank became such an innovation because "the mechanical arrangement of these freezers is most ingenious and well calculated to effect the desired purpose [for] poultry and other meats to be frozen almost instantaneously and preserved indefinitely" at a regulated temperature. 17 His success grew after one single sale totaled $45,000. 18 Built close to the railroad tracks, it is easily evident that this cold storage plant was so monumental because it led to such great success at an alarming rate and eventually became an integral part of farming throughout the country. However, the building later burnt down in a fire, and it was never replaced. Upon the arrival of the 1880s, the success of farming in Williston increased as more farmers established larger farms to account for their increased productivity. Prominent families also seemed to emerge as many of the large farms possessed names recognizable to all those in Williston, including Chittenden, Talcott (previously mentioned), Brownell, Chapman, Fay, and Miller. We can gather from these families that their installation in Williston resulted in the growth and expansion of the town into a bustling agricultural center. While families such as the Talcotts, Brownells, Chapmans and Chittendens primarily focused on dairy farming throughout the nineteenth century, the Fay family worked with saw and grist mills utilizing the timber industry in North Williston. The Miller family owned Maple Hill Farm which was famous for its dairy, produce, and a great place to ice fish on Shelburne Pond. 19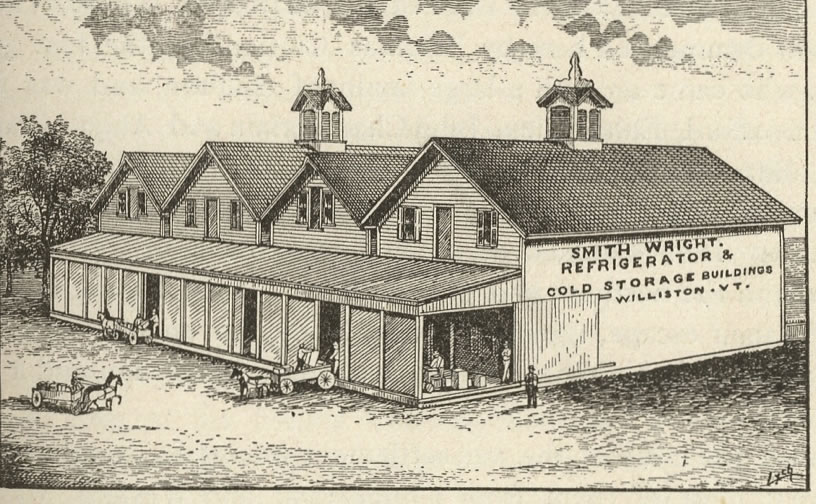 Figure Three: Smith Wright's Cold Storage Refrigerator
(Courtesy of UVM Special Collections)
Decline of Agriculture & Twentieth-Century Development
Moving towards the twentieth century, Samuel Brownell returned to Williston from Chicago and created the first municipal hydroelectric plant which brought a new form of technology into the picture in Williston. One can conjecture that the introduction of electricity and greater technological innovations soon led towards a decline of individual self-sustaining farm production in Chittenden County. According to the 1945 Agricultural Census, only 110 working farms existed in Williston, which is roughly in the middle compared to other towns in Chittenden County.20 Although the number of working farms dwindled, the acreage of farms in Williston remained near the largest in Chittenden County, highlighting the fact that many farms were large conglomerations of the prominent families. Williston's acreage that was harvested totaled almost 8,000 which comprises to almost fifty percent of its total cropland proving that Williston still succeeded at the farming industry even though technology was headed towards its eventual decrease. 21 According to trends from these reports, the dairy industry remains the most lucrative agricultural crop in Williston in the twentieth century. This is also evident through the census which reports that almost 83% of farms (which totals to around ninety farms total) reported cows that were used in farming. These trends also point to the poultry industry which also continued into the twentieth century, with an average of 100 chickens on a span of fifty different farms. Moving forwards, surburban sprawl changed the landscape of Williston. The introduction of interstate highway 89 in the 1960s led towards a growing number of residential suburban homes in the northern half of Williston. This along with the addition of commercial buildings in Taft Corners and the installation of the IBM headquarters also fostered the spread of suburban sprawl and decreased land for farm usage. However, as one drives south down Route 2A or Oak Hill Road, it is quickly noticeable that the lower portion of Williston remains mostly agricultural, littered with dairy farms that have been in production for multiple centuries, and that suburban sprawl has yet to take over this rewarding piece of Chittenden County.
***
1. William Sterne Random & Nancy Nahra, Thomas Chittenden's Town: A Story of Williston, VT.(VT: Williston Historical Society, 1998) p. 242
2. U.S. Bureau of the Census, Farm Census for the Towns in Vermont Based on the Bureau of the Census Unpublished Data, Jan. 1, 1945.(Burlington, Vermont: University of Vermont and State Agricultural College Cooperative Agricultural Extension Service, 1946). Available at UVM Libraries Special Collections.
4. Jeneva Peterson & Marge Swift, A History of Williston, VT from Charter Date to Present (Williston, VT, 1991).
5. W.S. Rann, History of Chittenden County, Vermont (Syracuse, NY: D. Mason & Co. Publishers, 1886).
10. U.S. Bureau of Census. Productions of Agriculture in the town of Williston, Chittenden County, Vermont. 1860, 1870, 1880.
11. F. Kennon Moody & Floyd D. Putnam, The Williston Story 1763-1961 (Essex Junction, VT: Roscoe Printing House, 1961), 42.
15. W.S. Rann, History of Chittenden County, Vermont (Syracuse, NY: D. Mason & Co. Publishers, 1886), 704.
17. Richard H. Allen, Our Town: Williston, Vermont (Vermont: Williston Central School, 1987).
18. F. Kennon Moody & Floyd D. Putnam, The Williston Story 1763-1961 (Essex Junction, VT: Roscoe Printing House, 1961), 9.
19. Hamilton Child, Gazetteer and Business Directory of Chittenden County, Vermont: 1882-1883 (Syracuse, NY: Hamilton Childs, 1883).
20. Oscar S. Peterson, Jr,. A History of Williston (Williston, VT).
21. W.S. Rann, History of Chittenden County, Vermont (Syracuse, NY: D. Mason & Co. Publishers, 1886), 713.