28. MILL STREET FROM THE AMERICAN WOOLEN COMPANY
November 1, 1935
An abutment of the new Winooski Bridge, completed in 1928, a year after the disastrous flooding of the Winooski River, is visible on the right of this image dated November 1, 1935. Two ornamental obelisks mark the end of the bridge, where open-work concrete railings begin on both sides. Mill Street has been recently paved with asphalt by the Burlington Street Department.
The dilapidated condition of the tenement in the foreground, however, belies the fact that the mills around Winooski Falls are in decline and the economy is in a severe recession. The 1935 City Directory lists the properties at 5-7 and 13-19 Mill Street as vacant.[1] The American Woolen Company Mill had been closed for several years by the time this photograph was taken by Louis L. McAllister. The large scale of the structures can be discerned by comparison with the two men with shovels and a wheelbarrow at work in front of 5-7 Mill Street.
The tenement's windows at 13-19 Mill Street are boarded up. Stairs leading up to the two doorways on the first floor level have been removed. Above the door lintels are marks on the clapboards where gable pediments, likely supported by small raised porches, have also been removed. Yet the building retains a solemn dignity, as part of the ensemble of these three large tenements that were the first homes of so many immigrants to Burlington.
[1] Burlington City Directory (1935).
28. MILL STREET FROM THE AMERICAN WOOLEN COMPANY (NOW CHASE MILL)
October 11, 2006
(18T 0644340 UTM 4927706)
In the 2005 image, a new structure visible in the left foreground and the spruce trees and shrubs obscure a clear view of the tenements. The enclosed porch at 13-19 Mill Street in the 1986 photograph has been opened up and cantilevered out from the second floor. Mature trees line the riverbank on the right, blocking a view of the Winooski Bridge. A tall utility pylon is visible at the top of the hill.
and
1986 PHOTOGRAPH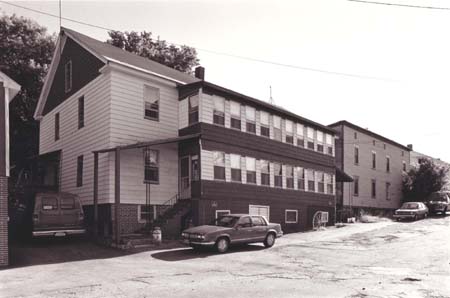 In the 1986 photograph, taken by Thomas Visser, it appears that the tenement building at 13-19 Mill Street has been recently renovated. It is clad in metal siding, with a brick veneer along the foundation wall. A narrow, two-story enclosed porch has covered all but two of the front bays. A rudimentary shed roof supported by two plain posts covers the raised entry at the corner of the new porch. Metal storm windows have been installed all around.
The structure to the right, at 5-7 Mill Street, remains very similar to its appearance in 1935. Four small openings, likely for ventilation, have been cut into the façade above the second-story level.