20. THE ROSSETTI HOUSE AT 32 BARRETT STREET
August 4, 1941
As part of its improvement project in 1941, the Burlington Street Department moved the structure at 32 Barrett Street up and back from the street. The work was necessitated by its proximity to the edge of the road: in order to build the sidewalk, the house had to be moved. McAllister seems to have been especially fascinated by this project, for he took at least five photographs of the process from August to October.
The building is a wood-frame two-story dwelling with gable roof and a central chimney, clad in narrow bands of clapboards with corner boards and simple wood window surrounds. The roof is shingled with slate tiles. It was built before 1869, for the footprint of the building is shown in the Beers Map of that year. From the exterior workmanship the house appears to be approximately the same age as the one at 51 Barrett Street. The two were likely to have been built shortly after Barrett Street was laid out in 1853.
In this image, three men and a boy pose in front of the west elevation of the house. They may be members of the Rossetti household, who are listed as residents here, or other neighborhood dwellers. Louis Rossetti worked as a baker for the Star Bakery.[1] In the left foreground a workman saws a plank balanced on a chair. A cement mixer is parked in front of the house. A section of the mill owned by the American Woolen Company, just down the hill on the north side, extends across the background of the image. The millís tall smoke stack looms in the distance. This photograph is dated August 4, 1941.
[1] Burlington City Directory (1941).
20. THE ROSSETTI HOUSE AT 32 BARRETT STREET
November 2, 2005
(18T 0644270 UTM 4927670)
The exterior appearance of 32 Barrett Street has been restored since the 1986 photograph was taken. Aluminum siding, window casings and shutters have been removed to reveal the original wood clapboards. A wood railing has been built around the entry steps. Slate shingles, square courses with three rows of fish scales in the center, remain on the roof. Maple trees, at least several decades old, shade the house now.
and
1986 PHOTOGRAPH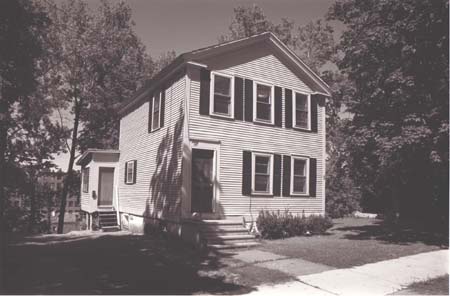 In this image of 32 Barrett Street photographed in 1986 by Thomas Visser, the structure appears to be clad in aluminum siding, with metal window surrounds and shutters. The cornice and transom light above the doorway have been removed, as has the wood paneled screen door. A one-story addition with a shed roof with an additional entry has been attached at the north side.