Historic Burlington' Vermont
Quick links
99 St. Louis Street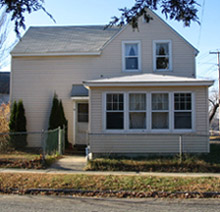 Built c. 1890
This residence is located on the corner of St. Louis St. and Manhattan Drive. Like many others, it is an ell plan, gable front, one and a half story structure with two over four bays and a one over one sash in the upper floor and six over one in the first story. A side entrance is covered by a pitched roof covering. This building differs from most other ell plans in that the gable, street facing façade is only one story high. This story is covered by a half hipped roof clad in shingles. Other features are the stone foundation, balloon framing and vinyl siding.
The Hopkins Map does not list an owner for this structure and no other information was attained from the City Directories. [1]
[1] G.M. Hopkins, C.E., Map of the city of Burlington Vermont from official Records, Private plans and Actual Surveys (Philadelphia: Hopkins, 1890).
Last modified December 07 2004 03:57 PM