Historic Burlington' Vermont
360 Main Street
Formerly 370 Main Street
Builder/Architect: J.J. McLaughlin, contractor
Date of Construction: 1881
First Occupant: Frank Dudley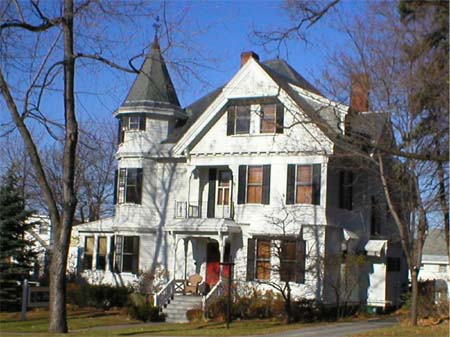 360 Main Street – southeast façade
Contractor J.J. McLaughlin built this Queen Anne residence for Frank Dudley, lumber dealer, in 1881. Its design and interior plan are based on a pattern published by Comstock in 1881.1 The home was sold to Jonas G. Reed, a wholesale tobacco merchant, in 1883.2 Reed lived here until he passed away c. 1912,3 and his widow Jane A. is listed until 1923. In 1923 the street number changed to #360, and ownership of the home passed to Edward. G. Asselin.4 Asselin, who was retired, only lived here until 1927.5
Aaron H. Grout, treasurer and manager of the Vermont Acceptance Corporation, moved here in 19286 and stayed until 1946.7 From 1948 through 1976 Frederick W. Van Buskirk resided here.8 Van Buskirk was a physician in the X-ray department at Bishop DeGoesbriand Hospital.9
There is no listing for this address in 1977,10 but in 1978 Lang Associates real estate office set up business here.11 They gave the building its present name, and in 2000 the house was restored and reconfigured for use as a bed and breakfast with eleven guestrooms.12 It continues to be used as such today and is known as the Lang House Bed & Breakfast.
----------------------------------------
1 John C. Page, Vermont Historic Sites and Structure Survey: Burlington: Main Street. Vermont Division for Historic Preservation, 1979.
2 Ibid.
3 Burlington City Directory, 1912
4 Burlington City Directory, 1923
5 Burlington City Directory, 1927
6 Burlington City Directory, 1928
7 Burlington City Directory, 1946
8 Burlington City Directories, 1948-1976
9 Burlington City Directory, 1948
10 Burlington City Directory, 1977
11 Burlington City Directory, 1978
12 About the Lang House, http://www.langhouse.com/article/view/4393/1/485/
Last modified December 08 2004 09:42 AM