Historic Burlington' Vermont
Alfred Benjanmin Fisher(1831-1911)
Alfred Benjamin Fisher was the most prominent and successful architect and builder in Burlington, Vermont during the 1880's. He was born in Barre, VT in 1831. When he was nineteen he was working as a carpenter until the Civil War, in which he participated. At the end of the war Fisher returned home to Barre and worked in the Barre/Montpelier area as an architect and builder. In 1877 he received a large commission in Burlington, the home of General William Wells. This structure placed at 158 South Willard Street launches Fisher's career in Burlington. In 1881 he had enough business that he opened an office in Burlington. Over the next decade he would construct about $1,500,000 worth of property. In 1840 it has been estimated that Fisher employed as many as forty employees at one time. This number expanded when his son, Clellan Waldo Fisher joined his father's firm and it became known as AB Fisher and Company. In 1887, Clellan moved to Albany, New York and ran a successful firm that built on both sides of the Lake Champlain. It was during this time that it is believed that AB Fisher entered a partial retirement. In 1889, Clellan moved back to Burlington and resided with his father at 285 South Willard Street until 1891 when he entered into a partnership with Stephen Earl of Worcester, Massachusetts. Also in 1891 Fisher participated in the mansion of Edward Wells, located on 61 Summit Street, as the master builder(1). At the competition of the home Fisher traveled to Massachusetts to live with his son where is remained until he passed away on August 23rd, 1911(2).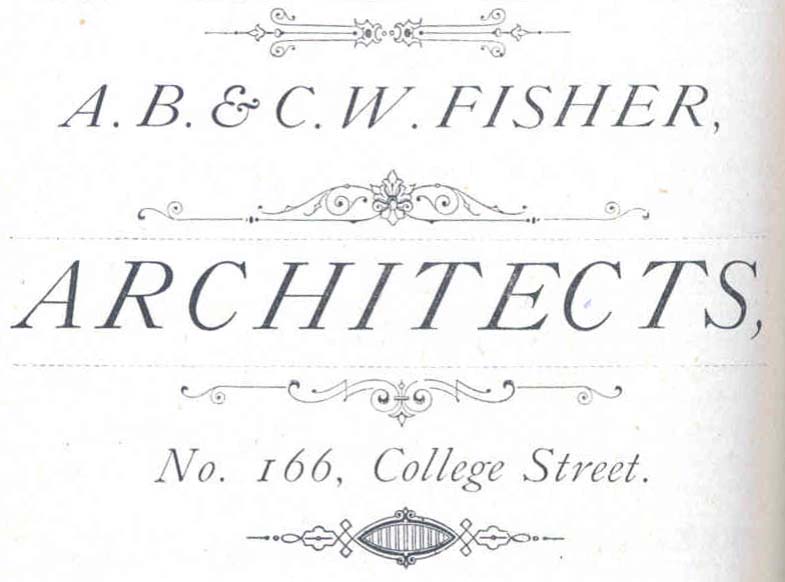 AB Fisher and his son's firm's advertisment(3).

The buildings built by the firm AB Fisher and Co, AB Fisher, or Clellan Fisher between 1877 and 1890 and located in the Hill Section are as follows:
158 South Willard Street
204 South Willard Street
227 South Willard Street
237 South Willard Street
258 South Willard Street
285 South Willard Street
301 South Willard Street
349 South Willard Street
192 South Union Street
236 South Union Street
83 Summit Street
(1)Schoettle.
(2)BFP, August 24, 1911.
(3)Burlington City Directories, 1884-5, p 124.
Last modified December 06 2004 05:27 PM