Historic Burlington' Vermont
30 Washington Street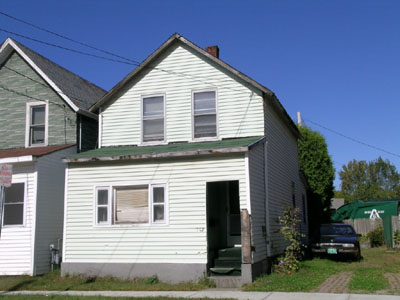 This gable-front house, like its neighbor to the west, is probably a two-by-two bay structure. Once again, an enclosed porch has been added to the front. This one-and-one-half story house has one-over-one double-hung sash windows present, but the window on the porch has a large single-paned window in the center. Siding and a modern roof cladding are also modifications to the original form.
In 1886-87, Charles Richelieu appears at 30 North Bend as employed by L.A. Walter, a marble and granite manufacturer. The date of construction can therefore be estimated as 1886. Subsequent directories reveal Richelieu's occupation as a stonecutter, and he is listed at this address until at least 1896.
1
1Burlington City Directory, 1884-85; 1886-87; 1888-89; 1889-90; 1890; 1895; 1896.
---
Amanda Ciampolillo
University of Vermont Historic Preservation Program
Last modified December 07 2004 07:11 PM