Burlington 1877
<![if !supportEmptyParas]> <![endif]>
What still stands from between 1869 and 1877 in Burlington, Vermont?
<![if !vml]>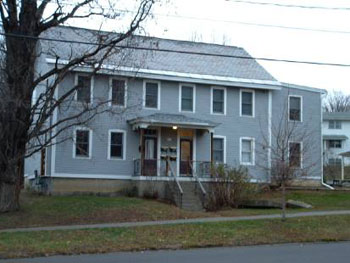 <![endif]>
<![if !supportEmptyParas]> <![endif]>
322-324 St. Paul Street
<![if !supportEmptyParas]> <![endif]>
According to a Sites and Structures Survey, this apartment building was built circa 1870 and was owned by the Gates Furniture Company<![if !supportFootnotes]>[1]<![endif]>. However, both the 1869 Beers Atlas Map and the 1890 Hopkins Map show this piece of property belonging to the Morse family. It is possible that this building may have been owned by the Morse family while the actual tenants worked at Gates Furniture Company. This building is an excellent example of an early multi-family workers home. The building is in remarkable shape and the structure on the side was added in a way that does not hinder the original character of the building.
<![if !supportEmptyParas]> <![endif]>
<![if !supportEmptyParas]> <![endif]>
<![if !supportFootnotes]>
---
<![endif]>