Burlington 1877
What still stands from between 1869 and 1877 in burlington, VT?
28 EAST AVENUE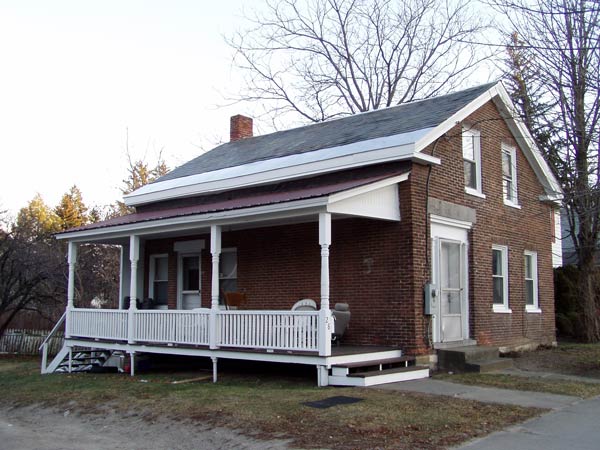 Likely built in 1870, 28 East was occupied by Jas and Jas O'Neil, employees of the Burlington cotton Mill and McWilliams Bros by 1871. In 1873-1874 the house had Jas (short for James), John and Peter O'Neil. This was the first year that the O'Neil Bro's store is mentioned with John as one of the owners. However, the next year all three were listed as being employed by the Cotton Mill. By 1877-1878, only Peter was living at 28 East, which continued until 1886-1887 when an entry for Dinah O'Neil appeared listing her as the widow of Peter O'Neil and residing at 190 Colchester Ave.[1]
Despite the death in the family the O'Neil's continued to live at 28 East, Dinah moved to 28 East in 1890 along with James O'Neil who was now listed as a co-owner of the O'Neil Brothers Grocery at 27 Church. The last mention of Dinah occured in 1895, leaving only James at 28 East until 1910. During that time the O'Neil Brothers Grocery had moved to 52 Colchester Ave and also served as Post Office substation 3. In 1911 James was joined by James J. O'Neil, a clerk at the O'Neil store. 1913 brought another addition to the house with Hugh P. O'Neil, who was an assistant bookkeeper with Swift & Co.[2]
The last mention of the Grocery occured in 1915, likely due to retirement by the O'Neil partners. It had been in business roughly 40 years. The 1916 directory listed Hugh, James E. and James J. O'Neil as living at 28 East. James J was then an employee of the B.F. Dept Store. The following year Hugh was no longer living at this address and the two James were joined by Mary Ellen O'Neil, a student. By 1920 they were joined by another Mary E O'Neil, who was employed by the L.B. Co. The other Mary E. was then out of school and employed as a bookkeeper.[3]
Yet another O'Neil joined the household in 1924, Alice C. O'Neil. Her occupations ranged from student to clerk and finally bookkeeper. The O'Neil family continued to live at 28 East until 1943 when their final listing in this home is Mary A. O'Neil with James E.[4] Altogether, 73 years of continuous occupation of 28 East by the O'Neil family and home to the owners of a successful grocery.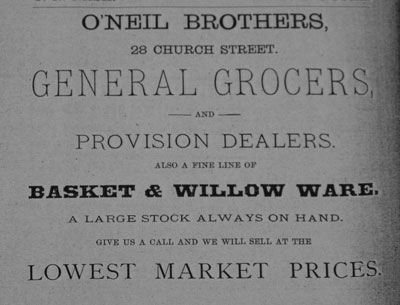 [5]
---
[1] Burlington City Directories 1870-1887
[2] Burlington City Directories 1890-1913
[3] Burlington City Directories 1915-1920
[4] Burlington City Directories 1924-1943
[5] Burlington City Directories