53 Front Street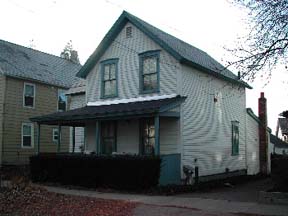 53 Front Street is simple example of a vernacular house with some Greek Revival characteristics such as its gable front and pediment windows. The one-and-a half-story house has a single-story rear addition.
In 1869, C. Benns owned the land on which this house stands.[1] The 1884-1885 Burlington City Directory listed Maggie and John Gleason as boarders and both of them were employed in nearby factories. It appears that the GleasonŐs lived in the house until at least 1901.[2] The house has seen a succession of various occupants through the years including a conductor in 1920 and a carpenter in the 1940Ős.[3]
---
[1] 1869 BeerŐs Map.
[2] 1901 Burlington City Directory .
[3] 1920 Burlington City and Winooski Directory and 1940 ManningŐs Burlington, Winooski and Essex Junction (Vermont) Directory .