33 Blodgett Street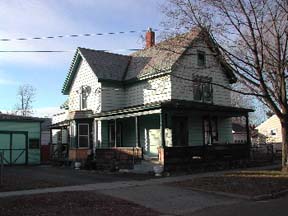 33 Blodgett Street is a vernacular house with a tri-gable ell plan and a steeply pitched roof. The house encompasses some interesting architectural features such as its paired windows on the front faćade, one-story wrap around porch and single-story bay window on the side faćade which add to the asymmetry of the house's design and show the influence of the Gothic Revival.
Blodgett Street was a new street in Burlington, which first appeared on the Bird's Eye View Map of 1877. The 1969 Beer's Map shows the area in which Blodgett Street is now located as part of the Chittenden County Fairgrounds. William Newton, a boatman employed on Lake Champlain, was the first resident and owner of the house.[1] From previous Burlington city directories, it appears that Mr. Newton was a resident of Burlington and employed at various steamboat companies before he built this house.[2] Newton continues to be listed as the occupant and owner of the house in 1890.[3] The house has had a variety of residents through the years including a firefighter for the city of Burlington in 1930.[4]
---
[1] 1877-1878 Burlington City Directory.
[2] 1871-1872, 1873-1874 & 1875-1876 Burlington City Directory.
[3] Hopkin's Map 1890.
[4] 1930 Manning's Burlington, Winooski and Essex Junction (Vermont) Directory.