168 & 170 Battery Street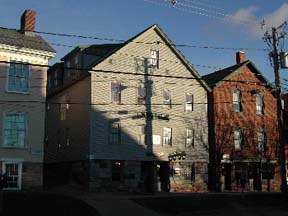 Both 168 & 170 Battery Street and 172 & 174 Battery Street were built between 1870 and 1877. (Please note 168 & 170 Battery Street is the larger gray building on the left.) Both of the buildings contribute to the Battery Street Historic District. These two buildings are both in excellent condition and both have commercial space on their first floors and residential spaces above.
The property is identified as being owned by Mrs. C. Kennedy on the 1890 HopkinÕs Map and through research from various Burlington city directories it can be seen that she had lived in the Burlington area for quite some time before purchasing the property.[1] 168 &170 Battery Street was used as tenement housing for laborers such as carpenters and those employed at the nearby lumberyards and other area industries.[2] The 1906 Sanborn Map labels the building as a tenement house. By 1910, there were ten boarders listed at the address as well as a shoemakerÕs commercial business.[3] Through the years various small business as well as boarders occupied the building. In the 1960Õs, the building experienced a decline and its occupants were listed as a few boarders, storage space and vacant rooms.[4] This decline continued up to the 1980Õs when the entire building was listed as vacant.[5] By 1990, the area was once again prosperous and various businesses and boarders started to occupy the building once again and this resurgence has continued up until the present day.[6]
---
[1] 1869-1870 & 1874-1876 Burlington City Directories
[2] 1877-1878, 1884-1885 & 1901 Burlington City Directories
[3] 1910 Burlington City & Winooski Directory
[4] 1960 Burlington, Winooski, South Burlington & Essex Junction Directory
[5] 1970 & 1980 Burlington, Winooski, South Burlington & Essex Junction Directories
[6] 1990 Burlington City Directory