North Bend [Manhattan Street]
The road that runs along the Intervale was, until after the turn of the century, referred to as North Bend. According to the 1869 Beers Atlas Map, there were several houses in this area, and even more subdivided lots. However, few of the original structures survive today. The Author had all of the property on the north side of Manhattan Street.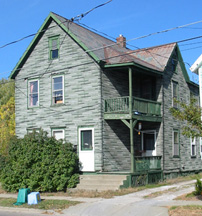 252-254 Manhattan Street
The 1869 Beers map list C. J. Alger at this site. According to the 1869 Directory, Alger was a lawyer in Burlington. As his name appears on many lots in the North End, it is likely that he purchased many lots for either resale or lease. The 1881 Directory lists an Uber Poreau and family at this address. Looking back at the 1869 Directory, there is a listing for a Hubert Poro on "North Bend between Rose and Lafountain sts." It is likely that this is the same family, simply misspelled in the earlier directory. The 1890 Hopkins map lists a Mrs. C. Poreau at this location, undoubtedly the same family. It is difficult to tell what the original state of this building was, as there have been extensive changes, including the asphalt shingles. The central chimney may allude to the age of the original structure, which is well hidden in the current condition.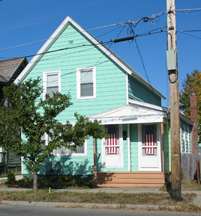 256-258 Manhattan Street
A footprint of this structure can be found on the 1869 Beers map, the 1890 Hopkins map, where it bears the name Mrs. E. Bushey, and in current aerial maps. However, efforts to determine the history of this structure were fruitless. There was no mention of this North Bend address in the 1881 Directory, nor did a Mrs. Bushey appear in an 1890 directory, though her name was listed on the map. The massing of this building, minus the side lean-to addition mirrors that of its neighbor of the same era. Additional research will be necessary to determine the origins of this structure.