Cedar Street
In the Spring of 2001, the Historic Preservation Department as a class project created a survey of certain North End streets for the Vermont Sites and Structures Survey. The houses on Cedar Street that appear on the 1869 Beers map rely almost solely on the information gathered in this exercise. Cedar Street proved to be the most difficult street in the Author's section in terms of information on the origins of the structures.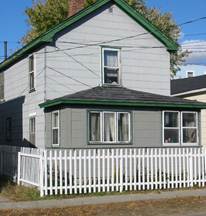 20 Cedar Street
The Historic Preservation program assignment found that according to research, this house dates from 1865.1 It appears on the 1869 Beers map, but there is no name attached to it. By 1881, the City Directory begins to show multiple laborers living in this location. While it may have originally been built for a single family, it was very early on made into shared housing. The central chimney may allude to its early building date, and the front porch area is likely a later addition.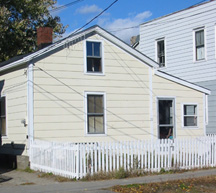 22 Cedar Street
Current aerial views show the exact footing as on the 1869 Beers map. This is a small one-and-a-half story building with central chimney that alludes to a humble vernacular origin consistent with the labor class that lived in the area. The Historic Preservation program assignment dates this building once again to 1865.2 As with the building next door, by 1881, the directory shows that this was housing for several laborers, including Eugene and William Lake.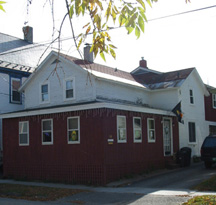 43 Cedar Street
The 1869 Beers map shows this structure with the initials J.C. These initials failed to yield any occupant according to the 1869 Directory. By 1881, John Riley is listed at this address, and is the name shown on the 1890 Hopkins map at this location. It is likely that the white portion of the structure is the original building with the porch area added at a later date.