<![if !vml]>

<![endif]>
<![if !supportEmptyParas]> <![endif]>
<![if !supportEmptyParas]> <![endif]>
<![if !supportEmptyParas]> <![endif]>
<![if !supportEmptyParas]> <![endif]>
<![if !supportEmptyParas]> <![endif]>
<![if !supportEmptyParas]> <![endif]>
<![if !vml]><![endif]>
<![if !supportEmptyParas]> <![endif]>
<![if !supportEmptyParas]> <![endif]>
<![if !supportEmptyParas]> <![endif]>
<![if !supportEmptyParas]> <![endif]>
<![if !supportEmptyParas]> <![endif]>
Old North End
Statement of Significance
<![if !supportEmptyParas]> <![endif]>
<![if !supportEmptyParas]> <![endif]>
<![if !supportEmptyParas]> <![endif]>
Burlington is a relatively large city located to the east of Lake Champlain in Vermont. The northern part of Burlington, also known as the Old North End, was once farmland. Early in the nineteenth-century, a tiny village sprang up and a small glass factory was constructed. The pastoral quality disappeared in the mid 1850s and this area became one of the most developed areas in Burlington.
The North Ends history is closely linked with the growth of industry, namely that of lumber and wool. As the city approached the latter 19th century, businesses were expanding, the population was growing and workers needed housing. The Old North End provided an answer to this housing shortage.
Workers poured into the city, not only for job opportunities, but also due to the availability of new housing. A large number of immigrants settled in the North End: French Canadians, Russian Jews, Irish and Germans. After the Civil War the Old North End went through a building boom and new working-class neighborhoods appeared.
Certain parts of the North End became close-knit cultural neighborhoods for immigrant workers. French Canadians settled nearby Elmwood Avenue. Russian Jews found residency close to the Ohavis Gerin Synagogue on Archibald and Hyde Streets and the Irish tended to take up housing on North Street<![if !supportFootnotes]>[1]<![endif]>.<![if !vml]>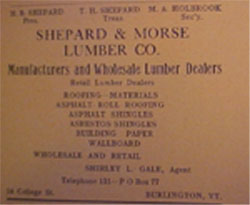 <![endif]>
Residents found employment with the large lumber businesses, such as Shepard and Morse Lumber Co., and the woolen mills (American Woolen Mill). However, they also contributed greatly to the economy of North Street. Many workers in the North End opened their own stores and offered services. A number of grocers, fishmongers, butchers and shoemakers made their homes and living here.
<![if !supportEmptyParas]> <![endif]>