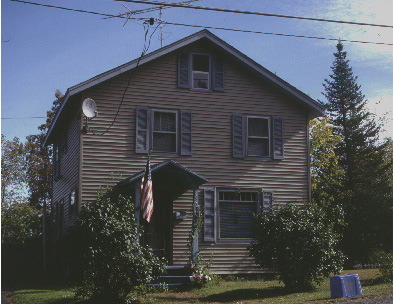 44 INTERVALE ROAD
Constructed sometime between 1850-1860, 44 Intervale Road is a two and one-half story, two-by-two bay, frame dwelling. The house faces west, with a gable-front roof oriented toward the street. A large picture window on the first story of the front façade appears to have been a later addition.
44 Intervale Road is listed on the 1869 Beers Atlas map as "J. N. P.," or John N. Pomeroy. J. N. Pomeroy was the son of John Pomeroy, a prominent Burlington physician. John N. Pomeroy attended the University of Vermont and practiced law until the death of his father in 1844 after which he began a long career in public service. According to the 1869 Beers Atlas, the John N. Pomeroy residence was located on North Prospect Street, thus it can be assumed that 44 Intervale Road functioned as a rental property.
The 1890 Hopkins map of Burlington, Vermont lists "Mrs. Ellen D. Brown" for both the house on North Prospect Street and 44 Intervale Road. John N. Pomeroy passed away in July of 1881. The first Sanborn Fire Insurance map incorporating the Intervale was published in 1944 and showed a two-story, frame dwelling at 44 Intervale Road. The same dwelling appears on the 1978 Sanborn Fire Insurance map.