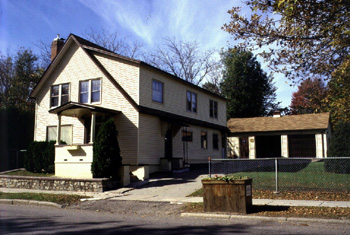 63 GROVE STREET
Constructed prior to 1869, 63 Grove Street is a two-story, two-by-three bay dwelling. The gable-end front façade faces eastward and is oriented toward Grove Street. The exterior appears to be clad in synthetic siding. A triple, shed roof dormer projects lengthwise along the north façade. There is a one story, gable roof entrance porch with Greek Revival detailing on the front façade. Various outbuildings, including a detached two-car garage, are evident toward the rear of the building.
63 Grove Street is listed on the 1869 Beers atlas as "J. Kirby" and appears to be adjacent to the Rumsey Lane "J. Groto" buildings. The Burlington city directories list a John Kirby as early as 1865, although there is no information as to where he resided or what his occupation may have been. In the 1866-1867 directories, an Andrew Kirby is listed as an employee of the Winooski Mill Company with a house near Winooski. The 1870 census lists J. Kirby as a 65-year-old white male, residing in Burlington. The 1871-1872 Burlington city directory lists John Kirby as living east of Falls Hill.
The 1890 Hopkins map of Burlington identifies "Mrs. C. A. Fountain" on the site of the aforementioned Kirby house. Records become scarce during the later half of the nineteenth and early portion of the twentieth centuries. Leonard B. is listed as the last house on Grove Street in the 1900 Burlington city directory and in the 1902 Burlington city directory, Simon Willard is listed as residing in the last house on Grove Street. Peter Brisson, a laborer, and Reuben Grant are also mentioned with regard to Grove Street.
The 1910 Burlington city directory lists seven men at 17 Grove Street and Charles A. Kirby in an unnumbered dwelling. Likewise, the 1920 Burlington city directory identifies at least four men living at 17 Grove Street and two people residing at 19 Grove Street. Eugene Robidoux, an employee at the P S Company, is listed in the 1930 Burlington city directory for 63 Grove Street.



---