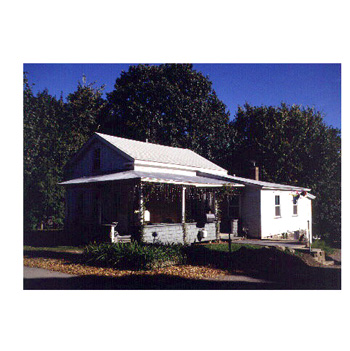 120 EAST AVENUE

Constructed prior to 1869, 120 East Avenue is a one and one-half story, two-by-three bay frame dwelling. The house is oriented toward the west, with the gable front roof facing East Avenue. A one-story, one-by-three bay, shed roof addition extends from the south façade. A large, one-story, wrap-around porch appears to have been a later addition.
120 East Avenue is listed on the 1869 Beers atlas map as "C. Baxter." From 1865 to 1871, the Burlington city directories list a Carlos Baxter, Internal Revenue Collector, as boarding at the American Hotel downtown. The Historic Sites and Structures Survey lists 120 East Avenue with a construction date c. 1850, although it does list C. Baxter as a c. 1860 occupant. There is a possibility that the house could have existed on the 1857 map as the Pollard house, although the Pollard house may have been one house south of 120 East Avenue.
The 1890 Hopkins map of Burlington lists "E. Tully"on the site of the former Baxter residence. From 1900 until 1905, John Burns (Byrnes), a laborer, was identified as occupying 120 East Avenue. The 1910 Burlington city directory listed Mrs. Catherine Madigan, widower, although in the 1920 Burlington city directory, John H. Byrnes, gardener, was once again identified as the occupant. Byrnes is listed through the 1940 Burlington City Directory, although he is now identified as retired.


---