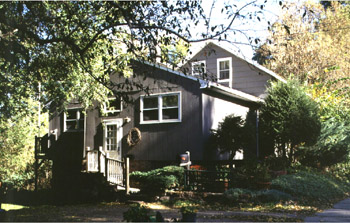 338 COLCHESTER AVENUE
Constructed prior to 1869, 338 Colchester Avenue is a one-story, three-by-two bay, gable roof dwelling. The house is oriented toward the west, facing away from the street. Cornice returns are present on the gable-front façade. A two story, three-bay, gable roof addition projects from the rear, running parallel to Colchester Avenue. The various windows do not appear to be original.
338 Colchester Avenue is listed on the 1869 Beers atlas map as "C. Benns." Benns owned four houses along Colchester Avenue that were present on the 1869 atlas map, three of which appear to have been built after 1857. From 1865-1872 Burlington city directories listed C. Benns as residing at a house on Main Street, east of Church Street. C. Benn's Colchester Avenue properties were most likely rental properties.
David Blow's Historic Guide to Burlington Neighborhoods, Vol. II, claims that a John Walker was listed in the Burlington city directory at 338 Colchester Avenue until 1883. From 1881-1883 Walker had resided at 190 Colchester Avenue. The 1890 Hopkins map of Burlington shows "L. D. Ainsworth" as the owner of 338 Colchester Avenue. From 1890 to 1893, L. D. Ainsworth is listed in the Burlington city directories as a farmer. The 1900-1902 Burlington city directories identify Grace Ainsworth, a widow, at 338 Colchester Avenue.
By 1905, Harry F. Simmons, a mill hand, was residing at 338 Colchester Avenue. (1) In the 1910 Burlington city directory, Eaton A. Stone, a painter, was listed under 338 Colchester Avenue. F. J. Woodcock, an employee at the American Woolen Company, was identified in the 1920 Burlington city directory and his widow, Mrs. Mary A. Woodcock was listed in the 1930 Burlington city directory. The Sanborn Fire Insurance map from 1926, revised in 1938, is the first Sanborn map to include 338 Colchester Avenue and shows a one and one-half story slate roof dwelling In 1940, Gustave Homeister, a watchman, resided at 338 Colchester Avenue. (2)

---
(1) Waite, L. P. and Company. Burlington City Directory and Business Directory (Burlington, Vermont: The Free Press Association, 1905).
(2) Manning, H. A. Burlington, Winooski, Essex Junction Directory (Springfield, Massachusetts: H. A. Manning Company, 1940).