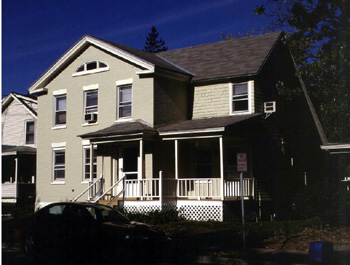 314 COLCHESTER AVENUE
Constructed prior to 1869, 314 Colchester Avenue is a two and one-half story, four-by-two bay, L-shaped dwelling. The main block consists of a gable-front roof, with cornice returns and a tripartite semi-circular fanlight. A side-gabled, two-story ell lies to the rear of the main block. Two, one-story porches are visible on the front façade.
314 Colchester Avenue is listed on the 1869 Beers Atlas map as "C. Benns," lying adjacent to 312 Colchester Avenue. Benns owned four houses along Colchester Avenue that were present on the 1869 atlas map, three of which appear to have been built after 1857. From 1865-1872 Burlington city directories list C. Benns as residing at a house on Main Street, east of Church Street. C. Benn's Colchester Avenue properties were most likely rental properties.
The 1890 Hopkin's map of Burlington identifies "Guy Chambers" as the owner of 314 Colchester Avenue and 312 Colchester Avenue. Chambers is listed in the 1890-1893 Burlington city directories as an employee of the Burlington Wool Company and appears to have remained at 314 Colchester Avenue through 1902.
The 1905 Burlington City Directory listed James W. Riley at 314 Colchester Avenue. William H. McDermott, a teacher at Adams School, was listed in the 1910 Burlington City directory. By 1920, John B. Drew, a druggist, resided at 314 Colchester Avenue and continued to do so through 1930 when he was listed as retired. The Sanborn Fire Insurance map from 1926, revised in 1938, is the first Sanborn map to include 314 Colchester Avenue and shows a two-half story slate roof dwelling. There is no listing in the 1940 Burlington city directory for 314 Colchester Avenue.

---
(1) Manning, H. A. Burlington, Winooski, Essex Junction Directory (Springfield, Massachusetts: H. A. Manning company, 1920-1930).