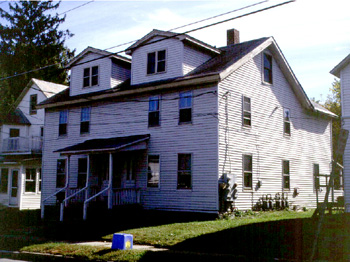 51-53 CHASE STREET
Built prior to 1869, 51-53 Chase Street is a two and one-half story, six-by-two bay, frame building. Two paired, gable roof, dormers project from the front façade. One shed roof porch shielding double entrances on the front façade indicate that the house is a duplex. The exterior is clad in wooden clapboards. A two-story addition may be seen on the rear of the building. Sanborn fire insurance maps from the late 1880's until 1978 show that 51-53 Chase Street has been altered and was at one time connected to at least two adjacent structures that not longer appear to be extant.
51-53 Chase Street is listed on the Beers atlas of 1869 as "S. S. Watson." The 1866 Burlington city directory identifies Samuel S. Watson as living in a house near Winooski. This is the first directory to mention Watson and it appears to be the first directory to include Winooski Falls. S. S. Watson is also listed as owning an adjacent property. The Historic Sites and Structures Survey lists 51-53 Chase Street as a c. 1860 Greek Revival building. The survey form speculates that the building was constructed to house mill workers at the Falls.
The 1890 Hopkins map of Burlington lists "G. A. Rumsey" as residing at 51-53 Chase Street. In the 1902 Burlington city directory, James Turner, an employee at the Champlain Shops, occupied 51 Chase Street, while Edward Basquet, a mill hand, occupied 53 Chase Street. The 1905 Burlington city directory lists 51-53 Chase Street as vacant. Robert R. Kiersted, a loom fixer, and Arthur Menard, a bricklayer, reside at 51 and 53 Chase Street in 1910.(1) The 1920 city directory identifies Harry L. Cram, an employee at the American Woolen Company, and Simeon White. According to the 1930 Burlington city directory, Harry L. Cram continued to occupy 51 Chase Street, however, Mrs. Victoria Stoddard, a widow, occupied 53 Chase Street. In the 1940 Burlington city directory, 51 Chase Street stood vacant. William M. Stoddard is listed for 53 Chase Street.

---
(1) Waite, L. P. and Company. Burlington City Directory and Business Directory (Burlington, Vermont: The Free Press Association, 1910).