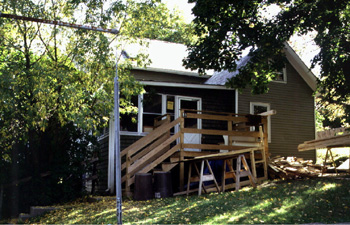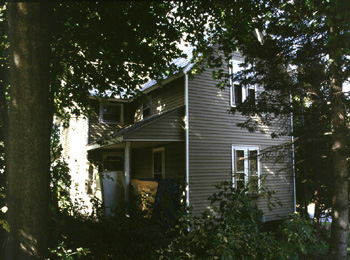 51 BARRETT STREET

Constructed prior to 1869, 51 Barrett Street occupies the corner of Barrett and Chase Streets. The dwelling appears to be frame, two stories tall, with three-by-two bays. The gable-front façade faces westward and includes a one story, c. 1900 gable roof addition. There have been numerous alterations to the exterior, including the replacement of original windows with one-over-one sash and the application of synthetic siding.
A deed dated March, 1864 from H. W. Catlin, administrator for Guy Catlin, to Pat Hogan mentions the warranty of house and lot, "where the said P. Hogan now lives, bounded south by the land of J. B. Harrington, west by the land of H. P. Hickcock and north and east by the highway." (1) This lot, 51 Barrett Street, is listed on the 1869 Beers atlas map as "P. Hogan." Burlington city directories from 1865 to 1872 list Patrick Hogan as a laborer with a house near the cotton factory near Winooski Falls. According to the 1870 Census, Patrick Hogan was a seventy-two year old white male who had emigrated from Ireland.
The 1890 Hopkins map of Burlington lists "J. E. Hogan" at 51 Barrett Street. Likewise, from 1879-1881 Burlington city directory identify Mary Hogan, widow of Patrick, at 51 Barrett Street. Bridget E. Hogan is listed as a boarder in 1890. By 1900 and until 1905, the Burlington city directory listed Oliver J. Welcome, a shoemaker, (2) as residing at 51 Barrett Street. In 1910, the Burlington city directory identified Mrs. Virginia Welcome, widow. Mrs. Welcome occupied 51 Barrett Street with her five daughters until the mid-1920's.
The 1930 Burlington city directory lists William C. White, a carpenter, and Mrs. Adeline Ginac, a widow, at 51 Barrett Street. The 1940 Burlington city directory confirms that William C. White continued to occupy 51 Barrett Street. According to a current tenant, the interior of the house has been divided into several rental rental units. (3)

---
(1) Burlington Land Records available at the University of Vermont, Baily Howe Library, Department of Special Collections.
(2) Waite, L. P. and Company. Burlington City Directory and Business Directory (Burlington, Vermont: The Free Association, 1890).
(3) Interview with a tenant, October, 2002.