368 College Street
Bennett Turk House, 1865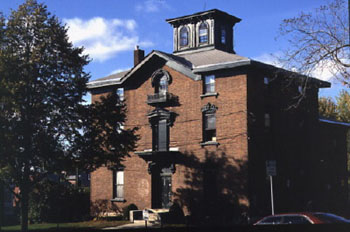 Now owned by Champlain College and operated as a dorm (Sanders Hall), this 1865 Italianate house built for Bennett Turk is thought to have been designed and constructed by the Roby Brothers (1). It does not appear on the 1853 Presdee and Edwards map of Burlington, but is marked on the 1869 Beers Atlas map. A fine example of an Italianate house in Burlington, it has round arch windows with carved floral motif head lintels and equally ornamental cast iron door surrounds. The main block of this three-story house is roughly square, brick, with three bays across the front facade, and capped with a hipped roof with cupola.
Turk owned a clothing store on Church Street along with his partner Joseph Colver. In addition to working together, Colver boarded with Turk and his family. Occupying a prominent corner location by College and South Willard Streets, it was a fitting home for a successful merchant. The Turks lived in the house from its construction until Bennett's death in 1916. His son Joseph, a civil engineer, continued to live there until 1920. He and his family moved to 98 South Willard Street in 1921 and the house was conveyed to the University of Vermont and renamed Sanders Hall. Then, from 1924 until 1934, the Phi Mu Delta Fraternity occupied the space. It returned to general UVM dormitory use in 1935. In 1967, the Turk House came into the possession of Champlain College, first as a women's dorm. Ruth Gilpin served as Head Resident for more than twenty years (2). It remains a Champlain College dormitory today. It holds a National Register of Historic Places nomination as part of the Main Street-College Street Historic District.
Ad from the 1866-67 Burlington City Directory.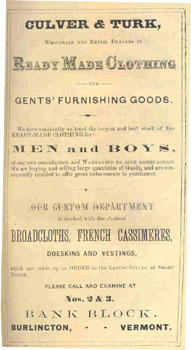 ----------------------------------------
(1) United States Department of the Interior, National Park Service, National Register of Historic Places nomination form, Burlington, VT, "Main Street to College Street Historic District," 1977-79.
(2) Burlington City Directories, 1865-1990.
Return to Main Page