38-60 Church Street
Payn's Block and Nelson's Block
c. 1860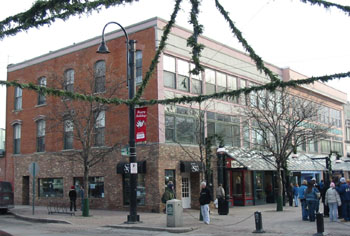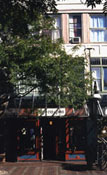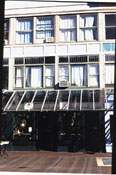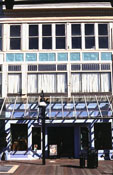 According to the Burlington Historic Structures and Sites Survey, this c. 1860 commercial block on the southeast corner of Church and Cherry Streets was built for Payn, a Burlington lock and gunsmith (1). He worked in a storefront below and lived above. However, it may date to after 1862, as the 1862 map of Burlington notes that this site was the location of a marble works. It first appears on the 1869 Sanborn map as "Payn's Block." The Survey mentions that the building may have been built by George Barrows. During the 1870s the block housed the book store of P.D. Ballou. Later uses include the Wheeler and Wilson sewing machine store (1890s), the C. Marcelais general news and books, a crockery belonging to C.G. Peterson, The American Clothing Co. (c. 1901), a glass and wallpaper shop, and the women's clothing store, "Temple of Fashion" (2). Today it houses a clothing store and a coffee shop.
The block formerly known as the Nelson Block immediately adjoins it to the south and was built between 1853 and 1869, based on a comparison of the 1853 Presdee and Edwards, and 1869 Sanborn maps. Originally a furniture store built by Henry J. Nelson, the first time that it appears in the Burlington City Directory is the 1867-68 edition, suggesting that construction was completed around 1866 or 1867. The Nelson's operated a furniture store here for about forty years. Since then it housed a variety of businesses. The two blocks were joined together by a c. 1925 polychrome facade of aluminum, mirrors, brick, plastic and glass, but the original Italianate facade with cast iron ornamental lintels can be seen on the Cherry Street facade (3). The 1920s facade is a good example in its own right of early twentieth century commercial block architectural fashion. Both blocks continue to have commercial space on the first floor with apartments above.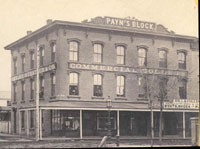 1880s view of Payn's Block from an undated and unidentified stereocard.
Courtesy UVM Library, Special Collections.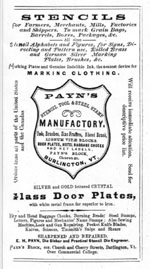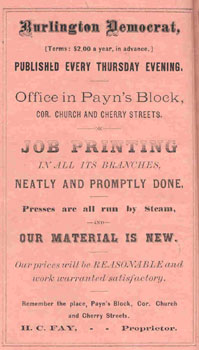 Ad for Payn's Stencil Manufactory from the 1866-67 Burlington City Directory.
Ad for the Burlington Democrat, from the 1871-72 Burlington City Directory.
---------------------------------
(1) Burlington Historic Sites and Structures Survey, Vermont Division for Historic Preservation, 1977.
(2) Burlington City Directories.
(3) Burlington Historic Sites and Structures Survey, Vermont Division for Historic Preservation, 1977.
Return to Main Page