71 South Willard Street
Third Congregational Church Parsonage
1868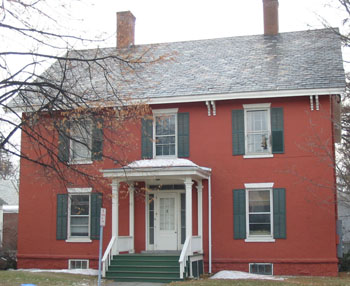 This rectangular, two and a half story, three by two bay, brick Federal-Greek Revival-Italianate house was built in 1867, as the new Congregational Church's parsonage. According to the 1977 Structures and Sites Survey (1), the mix of stylistic elements is original to its construction-it has Italianate cornice-line brackets and entry porch, Federal massing and wall planes, and Greek Revival moldings. Two interior end chimneys emerge from the slate roof. The first floor windows are one-over-one while the second floor windows are six-over-six, all with shutters. A one-story shed-roofed ell extends west from the rear of the house.
The Third Congregational Church was organized in 1860, and in 1862 they purchased a lot on the corner of South Union and College Streets for their new church. Construction began in 1863 and was completed in 1866 (2). In May of 1867, Mrs. E.W. Buell, a prominent Burlington citizen, conveyed the lot for the church's parsonage to the Congregational Society. Interestingly, she stipulated that the property could not be encumbranced for any debt of the Society for the next twenty years (3). The first pastor of the new church and resident of the parsonage was Rev. George B. Safford. He is listed as living on Pearl Street between Maiden Lane (now North Union Street) and Willard in the 1867-68 Burlington City Directory, indicating that the house was completed sometime in 1868. Rev. Safford was in residence there by the 1869-70 City Directory, and the footprint is labeled on the 1869 Beers Atlas map, so it was certainly finished by that time. The house served as the parsonage for successive pastors until 1934, when it was converted into seven apartments, housing a range of working-class men and women. Teachers, stenographers, salesmen, foremen, and others, many employed by the University of Vermont, were among the first renters. It remains a rental property today. The former parsonage is listed on the National Register of Historic places as part of the South Willard Street Historic District as structure number 125.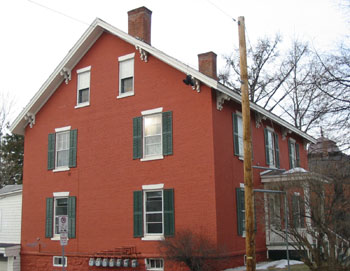 --------------------------------
(1) Burlington Historic Sites and Structures Survey, Vermont Division for Historic Preservation, 1977.
(2) "Site for a Church," Burlington Free Press, December 15, 1862, page 2, column 2.
(3) Burlington Town/City Land Records, Box 5, 1866-67 Land records, Real Estate Transfers 1866-68.
Return to Main Page