70-74 South Winooski Street
Daniel Kern House, c. 1857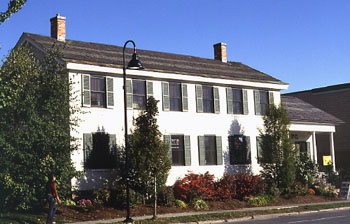 This Federal, rectangular, brick building with wing and side entrances has seen many incarnations-as a residence, police station, detective bureau, as the Above Par Restaurant, apartments, and currently, a Mailboxes, Etc. store. At times, it was also owned by the First United Methodists Church, according to the Burlington Historic Sties and Structures Survey. According to the Survey, it is "perhaps the only 6x2 bay building from this period," making it an unusual building for the period and for its survival on the outskirts of the commercial area. A photograph taken October 31, 1931 by L. L. McAllister shows that it once had a pair of entrances on the street facade of the main block, with two pairs of windows flanking these doors (1). This may in part explain the unusual size of the house-it was originally designed as a duplex. In fact, the 1862 Map of Burlington shows two circles connected by a line, one with the name D. Kern, the other with the name of Dr. Langdon. The Burlington Sites and Structures Survey dates the Kern house to "probably late 1850s" (3). The house does not seem to appear on the 1853 Presdee and Edwards map of Burlington, but a footprint and the name D. Kern is drawn on the 1862 map of Burlington, giving confidence to this date.
Based on this map evidence, the first known resident was Daniel Kern, but it is not known if Kern was responsible for its construction. A local flour and grain merchant, Mr. Kern was originally from Wollstein, Germany. He came to the United States in 1816, first to Philadelphia then to Pittsburgh. He worked his way up to Vermont as a journeyman tailor, moving first to Grand Isle, then to Burlington in 1822. With Colonel Walker, he opened a wholesale grocery business, and later expanded to include flour and grain. He retired in 1849, possibly due to poor health, and lived the remainder of his life with his son's family , passing away in 1882 (3). In May of 1867, Daniel Kern Sr. conveyed the "...north side of the garden at my homestead place on White Street [now South Winooski]..." to the neighboring Methodist Episcopal Church (4). Mr. Kern's son, Daniel Kern, Jr., inherited the house in the 1870s, prior to his father's death and continued to live there until his own passing in 1901 (5). Mrs. Sophia Kern, the widow of Daniel Kern Jr., occupied the house until 1933. It then passed to their son, Charles A. Kern, at the time an Assistant Professor at the University of Vermont. Charles seems to have stayed only four more years, according to the city directories. It remained residential until about 1944 when the American Red Cross began to occupy one side, with an apartment on the other. By 1951, the apartment had been divided into three spaces, at least one commercial, as Arlene's Beauty Salon is listed in the directory for this address. By 1960, the space had been divided into a six units, still a mix of commercial and residential uses. By 1980, the Burlington Police Department occupied the entire building. In the late 1980s the police department moved next door and the building returned to commercial use, today housing Mail Boxes, Etc., and what appear to be offices and possibly apartments in an addition to the rear (6).

1931 L. L. McAllister photograph of South Winooksi Avenue looking north from Bank Street, with the Kern house on the right, showing the center double entrance door.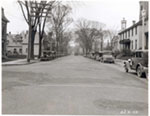 ------------------------------------
(1) L.L. McAllister Photograph Collection, Special Collections, University of Vermont Bailey Howe Library.
(2) The Burlington Historic Sites and Structures Survey, Vermont Division for Historic Preservation, 1977.
(3) "Daniel Kern Sr." Burlington Daily Free Press, July 28, 1882, page 3, column 3.
(4) Burlington, VT Town/City Records, Land Records, Carton 5, "Land Records: Real Estate Transfers 1866-68, folder 5-2, May 31, 1867, Special Collections, University of Vermont Bailey Howe Library.
(5) Burlington City Directories, 1901.
(6) Ibid.