80-82 Church Street
c. 1865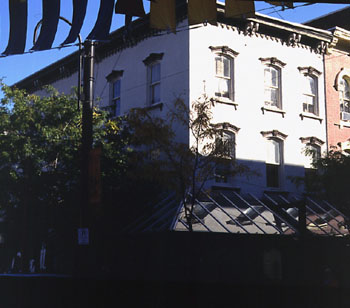 The Burlington Historic Sites and Structures Survey dates 80-82 Church Street portion of the building to c.1865, most likely due to its Italianate cast iron widow surrounds and cornice brackets (1). M. I. Fisher owned a dry goods store with Mr. Loomis and was probably the one who was behind its construction (2). The Burlington City Directory of 1865-66 notes that Fisher's business was already at this location, so it is possible that the building dates a few years earlier. The business failed in the mid-1870s, and was sold to Mrs. G.M. Collison, who operated a millenary and fancy goods business at 80 Church Street from 1888 to 1893. She also is listed as living at 82 Church Street (later 84 Church Street). Other occupants over the years were clothiers from 1902 to 1906, the Concord Laudy kitchen from 1906 to the 1940s, a jewelry store, and several others. A bank is now located on the first floor, and the tradition of apartments above continues (3).
----------------------------------
(1) Burlington Historic Structures and Sites Survey, Vermont Division for Historic Preservation, 1977.
(2) Ibid.
(3) Burlington City Directories, 1865-1990.
Return to Main Page