30-32 Church Street
c. 1854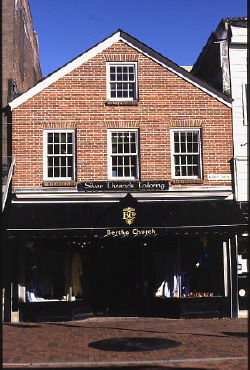 A sign on this two and a half-story building says it was built in 1854. As no footprint in this area appears on the 1853 Presdee and Edwards map of Burlington, and the 1869 Sanborn map shows a gable-front dwelling on this site, the 1854 construction date sounds reasonable. The name C. Warner is written in the location of the house on the 1862 map of Burlington, helping to narrow the construction date further. Its simple, brick Greek Revival style, popular in the 1850s, also supports the map evidence.
According to the Burlington City Directories, the first known residents are Mr. and Mrs. Ethelbert Selden. He worked for the Free Press Association (the Burlington Free Press) as an accountant, and she was a dressmaker. They lived there from 1865 until 1887. Harrison D. Brown, an "expressman," followed them and remained there until 1900, living and working out of his home according to Burlington City Directories. The house was then converted into a bakery and a florist shop with rooms above for employees to live. The 1902 City Directory lists A.G. Brown and August Gebicke as both living and respectively working as a baker and florist at this location. In 1906, J. Russell Whitlock replaced A. G. Brown as baker, but the two businesses continued until 1912. In 1913, David J. McMahon acquired the property and used the entire space as his bakery. His business flourished there for seventeen years. In 1931, Thomas & Co. moved in and converted the store to a clothing shop. The following year Sheppard & Hemmelle, clothiers, joined him. For the next thirty years, Sheppard & Hamelle operated the store. The clothing tradition continued for another seven years, from 1962 until 1969, this time as The Children's Store. Between 1970 and 1977, the storefront hosted a variety of businesses, most notably the Beneficial Finance Co. By 1980, the building's first floor had returned to a clothing store and except for a brief time when it was a jewelers in the early 1990s, it has remained a clothing store to this day.
---------------------------------
Burlington City Directories, 1865-1990.
Return to Main Page