144-148 Cherry Street
c.1855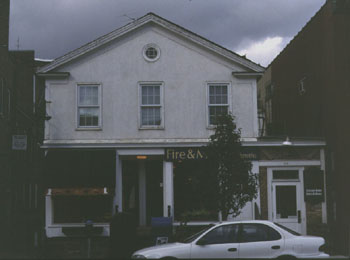 According to the Burlington Historic Sites and Structures Survey (1), this building did not appear on the 1853 or 1869 maps , yet dates the structure to ca. 1865. However, my review of the 1869 Beers map and the 1869 Sanborn maps suggests that it may have been built prior to 1869 and could be the structure listed as a dwelling at 18 Cherry Street on the Sanborn map. The Survey did indicate an inconsistency with the style of the building and their determination that it was built after 1869. If this is the same building, it is one of the few domestic scale structures left in the downtown area. It has both Greek Revival and Federal styling, with a gable front, south-facing orientation. At two and a half stories and three bays wide, it is of post and beam construction with clapboard and stucco exterior and a slate roof. The first floor windows on the street facade are large commercial shop windows while the remaining windows on the first and second floors and are six-over-six sash windows. A small round window in the gable lights the attic.
Tracing its occupants back in the Burlington City directories, between for the last eighty years it has served as a commercial storefront, first as one, and then in 1929, as two. The occupants have ranged from antiques (1922, George H. Mylkes), to a barber shop (1952, Paul's Barber shop), to dry cleaners (1977, NY Cleaners), to a Beauty Salon (1977), to a goldsmith (2002) and leather store (2002). From 1901 to 1920 it was a boarding house, with occupants changing frequently. Prior to 1901 the streets are not indexed in the city directories, nor were there any boarding houses listed on Cherry Street. The occupant who lived there in 1901 was not there the previous year; thus the building's history prior to 1901 is shrouded (2). As it is listed as a dwelling on the 1869 Sanborn map, its first use was most likely residential.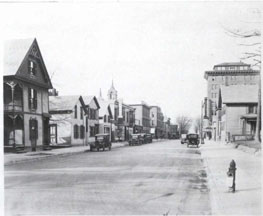 A 1930s view of Cherry Street looking west from South Winooski Avenue. 144 Cherry Street is on the right, the front of its gable roof just visible behind the larger gable-roofed building to its east.
Photo by L.L. McAllister, courtesy of UVM Library, Special Collections.
---------------------------------
(1) Burlington Historic Sites and Structures Survey, Vermont Division for Historic Preservation, 1977.
(2) Burlington City Directories, 1865-1990.

Return to Main Page