57-75 CHURCH STREET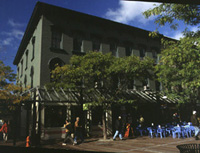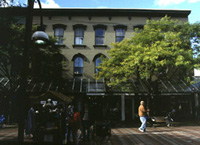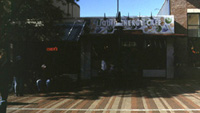 This structure was built in two sections, but is now one building. It has cast iron lintels and the cornice is bracketed and has dentils. Today the storefront of #71 is almost entirely intact. Construction of the building began in 1860 and was completed in 1863. The Union Block (#57-59) was constructed by Edward Loomis & A.W. Allen. Half of the ground floor was used for their leather and saddle business. The Central Block (#61-75) also may have been built by Loomis and Allen, and has housed numerous businesses over the years. (1) #61 Church Street housed a drug store for many years and #73 was the photographic studio of L.G. Burnham. Burnham's studio was also a jewelry store, and an art store that sold etchings and engravings. The 1890 map of Burlington by C.M. Hopkins, CE shows that #69 Church Street was owned by the Johnson Brothers. The Johnsons owned China Hall, a shop that sold fancy goods and wallpaper. The Johnson Brothers owned China Hall until about 1895 when L.C. Grant became the proprietor. The following are advertisements from some of these businesses: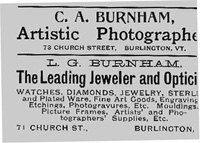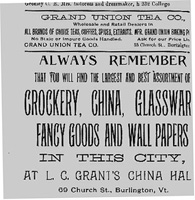 #55 Church Street was the Grand Union Tea Co. from the late 1880s to the 1920s. (2) In the 1930 Burlington City Directory #55 is listed as Stein Bros. Clothing. The upper stories of the building have been used for apartments. The large size of this building makes it significant.
Return to Main Page
---
(1) The Vermont Historic Sites and Structures Survey: Church Street. State of Vermont Division for Historic Preservation, 1977.
(2) Manning, H.A. Burlington, Winooski, Essex Junction Directory. Springfield, Massachusetts: H.A. Manning Company, 1900-1925.