81 Sherman Street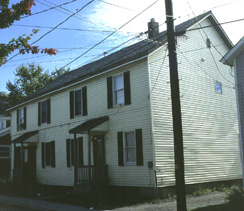 81 Sherman Street is a two-story, eaves-front, four by two bay, wood frame duplex on the south side of Sherman Street. Like 77 Sherman Street, it has very little stylistic embellishment and has changed little since its construction.

Also like 77 Sherman Street, the building was constructed between 1857 and 1869.1 Furthermore, Like 77 Sherman Street, it was owned by the Smith family in 1890.2 Owned completely as a rental unit from 1890 to 1925, it housed laborers, paper hangers, unemployed men, masons, painters, widows, brush factory employees, railroad employees, and women who did housework.3 In 1925, it was purchased by Joseph Viglio, a railroad worker, who inhabited part of the building and made the remainder available for rent.4 Under Viglio's ownership, the building was home to retired men, construction workers, city employees, and laborers.5 The building has been sold several times since then, but retains its rental character.
---
1Walling Map, 1857; Beers Atlas Map, 1869.
2Hopkins Map, 1890.
3Burlington City Directories.
4Burlington City Tax Assessors Records; Burlington City Directories.
5Burlington City Directories.
---
Return to Index...