66 George Street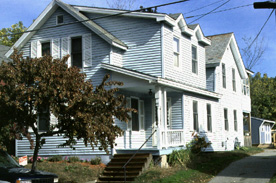 66 George Street is a two-story, two by five bay, gable-front, asymmetrical, wood frame building on the east side of George Street between Monroe and Peru Streets. An ell was added to the rear of the building by 1890,1 and half of the porch on the south elevation was enclosed by 1900.2 After 1942, the large dormer above the porch was constructed and the rear half of the porch was enclosed.3

The structure was built between 1857 and 1869,4 probably for Robert Hunter, a blacksmith.5 Fred Isham, an employee of the National Biscuit Company, lived in the house from 1895 until at least 1904.6 In 1907, the Michaud estate purchased the property and held it until 1963. The Michaud family themselves lived in the house until at least 1940, counting in their number cabinet makers and a bookkeeper.
---
1Hopkins Map, 1890.
2Sanborn Fire Insurance Map, 1900.
3Sanborn Fire Insurance Map, 1942.
4Walling Map, 1857; Beers Atlas Map, 1869.
5Burlington City Directories.
6Burlington City Directories.
---
Return to Index...