52 George Street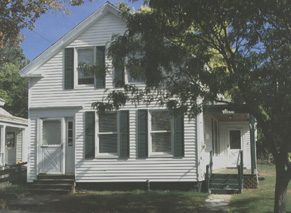 52 George Street is a one and one-half-story, gable-front, two over three-bay, frame structure on the east side of George Street between Monroe and Peru Streets. It exemplifies the uniformity in scale and style of the northern half of George Street, with many similar neighbors on the west side of the street. Its fašade features cornice returns and a strong lintel above the door, which appears in the northernmost bay. A large extension was added to the rear of the building before 1890, and the porch on the southerly side of the house was added between by 1894.1

This house, unlike many others in the neighborhood, has seen few major ownership changes over its lifespan. It was built between 1857 and 1865 for A.K. Bowles, and the Bowles family continued to own the home until 1942.2 Later during that period of ownership, the Bowles family rented the property to tenants, such as George E. Blaker in 1940, who had lived across the street at 45 George Street in the 1920s. By this time Blaker was employed by the McKenzie Packing Company, whose business was nearby. In 1942, the Bowles sold the building to the Terrien family,3 who continue to live there.
---
1Hopkins Map, 1890; Sanborn Fire Insurance Map, 1894.
2Walling Map, 1857; Burlington City Directories; Burlington City Tax Assessors Records.
3Burlington City Tax Assessors Records.
---
Return to Index...