49 George Street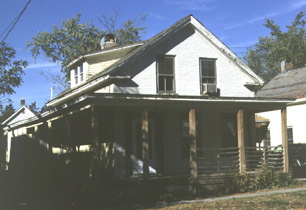 49 George Street is a one and one-half-story, gable-front, two over three-bay, brick structure on the west side of George Street between Monroe and Peru Streets. It is very similar in scale and style to 45 George Street, with cornice returns and side lights, and splayed brick lintels. The entrance is placed in the south bay. A porch was added by 1894, and has been recently modified.1

This building was constructed between 1857 and 1865 for Sidney Wells, a machinist.2 By the turn of the 20th Century it was occupied by Edward B. Hardy, a speculator. William H. Gleason, a janitor and coachman, bought the house in 1908 and lived there until 1934. Percy J. Carpenter, a trucker, purchased the property in 1935, and continued to reside at 49 George into the 1940s.3 These occupants emphasize the continuity of the working class nature of this neighborhood throughout its history.
---
1Sanborn Fire Insurance Map, 1984.
2Walling Map, 1857; Burlington City Directories.
3Burlington City Directories; Burlington City Tax Assessors Records
---
Return to Index...