23 George Street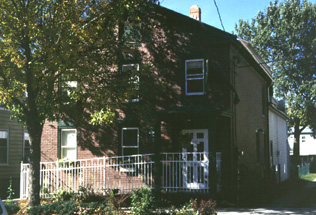 23 George Street is a two-story, three by two bay, gable-front, brick structure of residential scale. It is located on the west side of George Street, between Pearl Street and Monroe Street. The building's fašade contains Greek Revival stylistic elements such as cornice returns and heavy lintels. A wood frame addition was completed by 1890.1

This home was constructed between 1857 and 18692 for Mrs. Harriet Daniels, who remained at her homestead until her death c. 1887.3 In 1887, it was transferred to Jerry Crowley,4 previously of Monroe Street, whose widow continued to occupy the house until 1910. Adolphus M. Sawyer, who had no listed occupation at the time, bought the building from Mrs. Crowley, and a railroad inspector named William H. Liddy lived her from c.1920 until 1929. Liddy, who bought the property in 1925, sold it again to John Culligan, retired, in 1929. Culligan continued to reside at 23 George until 1958.5 The building is currently used as office space, made possible by its proximity to the commercial center surrounding nearby Church Street.
---
1Hopkins Map, 1890.
2Walling Map, 1857; Beers Atlas Map, 1869.
3Deed, Burlington City Land Records, Volume 23, Page 405.
4Deed, Burlington City Land Records, Volume 25, Page 278.
5Burlington City Directories.
---
Return to Index...