11 Allen Street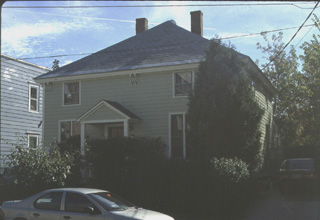 11 Allen Street is a two-story, three by two bay, hipped-roof, wood frame building on the south side of Allen Street, close to its intersection with Murray Street. It features Italianate brackets below the cornice, twin chimney stacks, and a small entrance porch in the middle bay. It retains the same footprint from its construction, with no notable additions since that time.1

The building was constructed between 1857 and 1869.2 Its first known occupant was Abial B. Anthony, a barber, who owned the structure by 1890.3 Anthony seems to have alternately rented the building and lived in it. In 1902, Euclid Laramie lived at 11 Allen Street, and in 1903 it was vacant. Anthony was again living in the house by 1910, and remained there until the 1930s. By 1940 it was again being rented, this time to Robert Collette, who was employed by Child's Vulcanizing Company, and Roy E. Durant, who was unemployed at the time.4 The building continues as rental property to this day.

Throughout its history, 11 Allen Street has emphasized the working class nature of this neighborhood, as well as the French Canadian heritage of this part of Burlington.
---
1Beers Atlas Map, 1869.
2Walling Map, 1857; Beers Atlas Map, 1869.
3Hopkins Map, 1890.
4Burlington City Directories.
---
Return to Index...