---
209 Battery Street

The Old Stone Store, south half 1827, north half 1841

By Nate Bailly

The Old Stone Store dates from a time in Burlington's history when the key method of transporting goods was by water. The northern half of what is now a granite block gable front building was built by Burlington lawyer Timothy Follett in 1827 for the bustling freight transport business. Mayo, Follet & Co. utilized the building for storage of freight unloaded at the old "South Warf" just west of the building and along the waterfront at the end of Maple Street.(1)


The northern half of the building was built in 1827 in response to this need for waterfront storage. As time went on, this area of Battery Street turned out to be conducive to a variety of business activities and developed into Burlington's thriving business district.(2) The south half of the store and the gable roof was built in 1841 in an effort to keep pace with the surrounding environment.

Though the dates of construction for this building seem quite assured, close study of the 1830 Ami B. Young map of Burlington creates a puzzle. On this northwest corner of what is now Maple and Battery Street (it is labeled Wharf Street on the Young map and South Street on the Presdee), neither the south nor the north half of the Stone Store seems to exist.(Fig. 1) When compared to the Presdee & Edwards map of 1853, it is made even clearer that Young either did not record the structure on the map, or no structure existed.(Fig. 2) Interpretation of the Young map is also an important consideration, as the student researching this building last year felt Young had indeed drawn the building on the map. This presents a quandary that begs greater investigation, but was not feasible in the time frame given.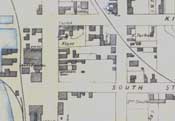 The two sections of the building are not easily distinguished. The smaller north half is a simple three bay block constructed of granite. The south half is similar, but more decorative with four bays of larger windows and a more elaborate entryway. In addition, simple Greek pilasters on the first story of the south façade serve to further distinguish the two sections. The building was fully renovated in 1979 and currently houses offices and a restaurant.
---
(1) United States National Park Service, National Register of Historic Places Inventory: Battery-King St. Historic District, 1976-1978.
(2) David Blow, Historic Guide to Burlington Neighborhoods (Burlington: Chittenden County Historical Society, 1991), 94.
Photos: Nate Bailly
Back to the Waterfront...