---
151 South Champlain

c. 1850

By Eliot H. Lothrop
151 South Champlain Street is listed as the Enos Blinn House on the National Register of Historic Places nomination form for the Battery Street Historic District. The nomination form claims that the house was built around 18501 and it probably was even earlier than that. Although it too does not give a location for his house, there is a record from 1850 of Enos Blinn seeking compensation from the Vermont Central Railroad Co. running rail lines through part of his back yard.2 As shown on the 1853 Presdee and Edwards map, the lines did cut diagonally through a portion of 151 S. Champlain Street. Although it too does not give an address, the 1840 Census lists Blinn as the head of the household with a wife and a son between the ages of five and ten.3

This house is a fine example of Greek Revival architecture. It has a rough stone foundation, a pointed peak, and heavy stone lintels. It is a three bay wide brick building, oriented with the gable end facing Champlain Street. The front gable end creates an enclosed pediment where the cornice line is continued across the front of the building. It extends back three bays before shifting to the North just slightly and extending another three bays. This irregularity is clearly represented on the 1853 Presdee and Edwards map.4 As well, a third wing is shown to have existed off the back of the building on the 1853 map. The stone foundation of this wing is still evident and appears to be the same dimensions as the wing shown.

Old stone foundation off of the western wing.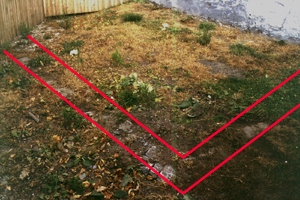 ---
1 National Register of Historic Places nomination form. "Battery Street Historic District." Burlington, Vermont. 1976.
2 Vol. 21 P. 514 Burlington Land Records. Burlington City Hall, VT.
3 Page 029 1840 U.S. Census. Burlington, VT. Bailey-Howe Library, UVM.
4 1853 Presdee and Edwards map. Burlington, VT. Bailey-Howe Library Special Collections, UVM.