---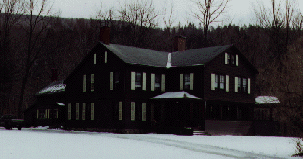 8. Leake Residence c.1835/1880/1930
This large, irregular bay, two-and-a-half story, tri-gable ell house has a wrap-around porch on the west facing facade, and a long, two-and-a-half story rear wing. Located on the eastern side of Furnace Grove, the house has a stone foundation, vinyl clapboard siding on the first floor, wood shingles on the second floor, and asphalt shingles on the roof. A flared beltcourse separates the two types of siding between the first and second stories. A large brick chimney is at the intersection of the ell; a slightly smaller interior end brick chimney punctuates the north gable end. Most of the windows in the main section are twelve-over-one and six-over-one double hung sash with louvered shutters.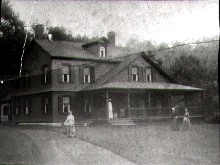 The porch, recessed along the front of the house and offset at the southwest corner, has a beadboard ceiling, square posts, and a slightly flared apron along the front and offset corner. Two sets of French windows with Queen Anne style multi-light transoms are located along the front facade in the recessed porch area of the main block. A separate but connected entrance porch, located in the elbow of the ell, has a simple balustrade and shelters the main Colonial Revival style door with a Queen Anne style transom window above. The door is located on the north facing side of the west facing gable end section of the main block.
South of the center on the rear (east) slope of the ell, a distinctive Greek Revival style dormer features corner pilasters, a full entablature, gable pediment, and an eight-over-twelve window with an arched upper sash, flanked by narrow pilasters and topped by a hood molding. To the right is a wall dormer with an off-center twelve-over-one window; the dormer is intersected by the roof of the wing.
The north side of the rear wing has an off-center gable end entrance porch. To the left of the porch is a single six-over-one double hung window and a pair of six-over-one double hung window; to the right are two pairs of six-over-one double hung windows. The second floor has four paired twelve light casement windows. The roof has a large ridge chimney. The south side of the wing has an enclosed porch and modern deck on the first floor, west end and an infilled carriage bay on the east end. On the second floor is a wide shed roof dormer.
At the eastern end is an end chimney at the junction between the end of the wing and the one-story, shed roof addition.
This house was originally built for iron works manager Zadock Taft. It was remodeled in the 1880s and again in the 1930s.
RETURN TO MAIN PAGE