---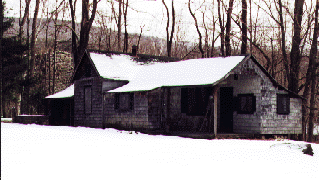 16. The Camp c.1860/1961
This Adirondack rustic style, one-story, gable roof cottage was built in four stages on the bank north of the iron furnaces. The oldest section (east) was built of logs cut in nearby Woodford. The gable front "Playhouse" (today the kitchen) was added c.1890 to the western side, followed by the bedroom c.1905. The bathroom off the bedroom and the westernmost section and porch were added c.1961. This building has a stone foundation.
The log cabin is fronted by a rustic porch; a cobblestone wall chimney is located on the south facade. The rest of the building has wood shingle siding, paired ten- and three-light casement windows. A metal stove chimney projects from the asphalt shingled roof.
Seymour Van Santvoord built the camp as a place to come in the fall and winter to cook, snowshoe and hike in the woods. During the summer, the family would have picnics here. The Camp is in good condition.
RETURN TO MAIN PAGE